Tight end Martellus Bennett will be honored as the Bears player of the year Monday night at the 26th Annual Comcast SportsNet Awards at the Hilton Chicago & Towers.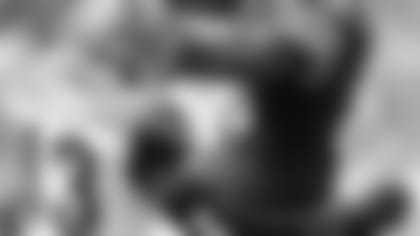 Martellus Bennett catches an 8-yard TD pass from Jay Cutler in the season opener.
In his first season in Chicago, Bennett established career highs with 65 receptions and 759 yards and matched a personal best with five touchdowns. His 65 catches were the second most by a tight end in Bears history, topped only by Hall of Famer Mike Ditka's 75 receptions in 1964.

Other Chicago athletes who will be honored at the Comcast SportsNet Awards, which are presented by Blue Cross Blue Shield of Illinois, include Nazr Mohammed (Bulls), Welington Castillo (Cubs), Nate Jones (White Sox), Patrick Sharp (Blackhawks) and Mike Magee (Fire).

The athletes were chosen based on the contributions they made to their teams as well as to the Chicago community.

The annual event, which will be emceed by Comcast SportsNet's David Kaplan, benefits the March of Dimes and has raised more than $10 million since its inception 25 years ago.

The event will begin with a reception at 5 p.m., followed by dinner at 6:30 p.m. The awards ceremony, which will be televised live on Comcast SportsNet in HD, will start at 7:30 p.m. with a special half-hour pre-show set to air at 7 p.m.

Blackhawks legend Stan Mikita will receive a lifetime achievement award, and 18-year-old Alyssa Gialamas from Waubonsie Valley High School in Aurora will be recognized as the winner of the March of Dimes Inspirational Athlete Award. The Naperville resident is a Paralympic swimmer who has persevered as a standout athlete, student and ambassador despite being born with a birth defect.

The March of Dimes is the leading nonprofit organization for pregnancy and baby health that works to improve the health of babies by preventing birth defects, premature birth and infant mortality. For the latest resources and information, visit marchofdimes.com or nacersano.org.

Tickets are $400 per person and sponsorships are available. To purchase tickets or to make a donation, please contact Kate Adams at 312-596-4721 (kadams@marchofdimes.com) or visit CSNChicago.com/sportsawards26.