Mrs. McCaskey 'a source of daily inspiration'
---
---
With International Women's Day on Monday, there's no better time to celebrate the matriarch of the Chicago Bears and the First Lady of the NFL.
The only daughter of legendary Pro Football Hall of Famer George Halas, Virginia Halas McCaskey has served as the Bears' principal owner since her father's death in 1983. But she has been closely involved with the famed franchise nearly since its inception more than a century ago.
Mrs. McCaskey was born Jan. 5, 1923, less than three years after her father had founded the team as the Decatur Staleys and helped create what would become the NFL. As a toddler, she accompanied her father and the team during the Red Grange barnstorming tour in 1925-26. In 1932, Mrs. McCaskey attended the NFL's first indoor game, watching the Bears win the league championship by blanking the Portsmouth Spartans 9-0 at the Chicago Stadium.
"Nobody has seen as much NFL history up close as she has," said Dan Pompei, a longtime pro football writer who co-authored the Chicago Bears Centennial Scrapbook in 2019, a 320-page keepsake that chronicles the franchise's first 100 years. "She is completely unique in that regard."
In the book, Mrs. McCaskey recalls Grange, who was football's most popular superstar in his day, carrying her in front of him through train stations so fans wouldn't recognize him and mob him for autographs. She also remembers the unpleasant odor that permeated the Chicago Stadium during the 1932 game—which was moved indoors because of harsh winter weather—saying: "The circus had been there the week before, and it still smelled of animals."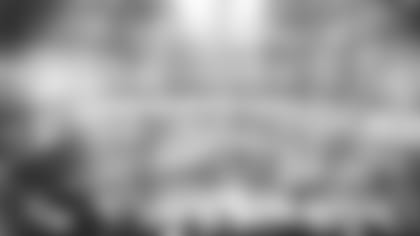 Pompei and co-author Don Pierson spent several hours interviewing Mrs. McCaskey in her home for the Centennial Scrapbook.
"We were both really impressed with her recall and her ability to communicate to us things that had happened 80 years ago," Pompei said. "That part of it was really remarkable, and then of course she's just so charming and gracious and just nice to be around. She's one of those people who anytime she's in a room, she makes the room a better place, she kind of lifts up the room, and we experienced that during those interview sessions."
Daily source of inspiration
Bears chairman George H. McCaskey is incredibly proud that his mother has been alive for eight of the franchise's nine NFL championships and is even more grateful that she still can discuss each one of them in great detail.
"I marvel every day and appreciate so much that she remains mentally sharp," George said. "It's a credit to her, and she's blessed in that regard. For all of us—her children and grandchildren—she's a source of daily inspiration."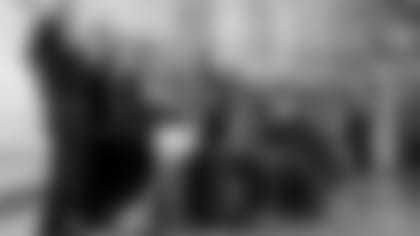 While George reveals that "the pandemic has really cramped her style because she likes to get out and doesn't want to be cooped up in the house all day," he's happy to report that his mother is back attending daily mass and exercising three times a week, "so she's in a good place." 
George says that as Bears owner, his mother aims to strike a proper balance between being involved and not interfering. "I seek her counsel on a regular basis," George said. "She wants to be kept informed, she wants to be kept up to date, but she doesn't want to interfere."
In a 2013 magazine article, George discussed his mother's influence with the Bears, saying: "With her at the helm, the seas are calmer, the storms less severe. She's the guiding force behind the Bears, and everybody at Halas Hall—including the players—knows that and appreciates that."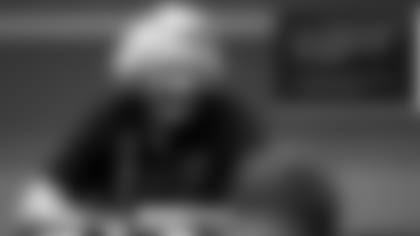 Halas revealed in his autobiography that both he and his wife, Minnie, were expecting a boy when Minnie was pregnant with Virginia: "The initial shock over, I was delighted with my daughter," Halas wrote. "I began immediately plying her with orange juice—the fad at the time for young babies—and stories of the Bears."
During grade school when a group of boys were bragging to Mrs. McCaskey about meeting Cubs star Gabby Harnett, she countered by mentioning that she personally knew Grange. When the boys refused to believe her, she returned to school with an autographed photo of Grange that read: "Dear Virginia, Sure, I do know you and I think you're swell, Red Grange."
Mrs. McCaskey attended Drexel University in Philadelphia, where she studied business management. It was there that she met her future husband, who was a student at the University of Pennsylvania and also sang in a band at local dance halls.
Mrs. McCaskey married Edward McCaskey Feb. 2, 1943—on her father's 48th birthday. Mr. McCaskey soon left for Europe to fight in World War II, serving in the Army.
The McCaskeys were married for 60 years until Ed passed away April 8, 2003 at the age of 83. Devout Catholics, they raised 11 children. Four of their eight sons currently work full-time for the Bears: George (chairman), Patrick (vice president), Brian (vice president) and Rich (administration).
The McCaskeys' oldest child, Michael, served as Bears president from 1982-99 and chairman from 1999 until his retirement in 2011. Michael passed away last May 16 at the age of 76. The McCaskeys' second oldest child, Tim, served as a Bears vice president from 1993 until his death Jan. 30, 2011.
One of Mrs. McCaskey's fondest memories was watching the Bears beat the New York Giants 14-10 to win the 1963 NFL Championship at frigid Wrigley Field.
In a 2014 interview on the team-produced "Inside the Bears" television show, Mrs. McCaskey remembered that it was a "cold, cold, cold day. In those days we were sitting outside. There were no executive suites. We had everything we could think of to keep warm. Before that season and even during that season, my dad was still coaching at age 68 and some people thought he should be retired—and he showed them."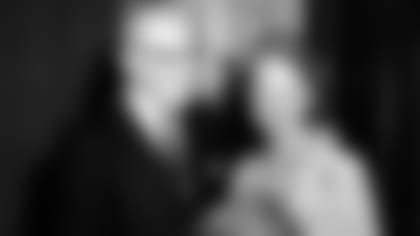 Mrs. McCaskey revealed on the same show that another favorite memory came Jan. 21, 2007 at Soldier Field when she accepted the NFC championship trophy that's named after her father following a win over the Saints that sent the Bears to the Super Bowl.
"It was a glorious time," she said. "We had four generations of family on the field."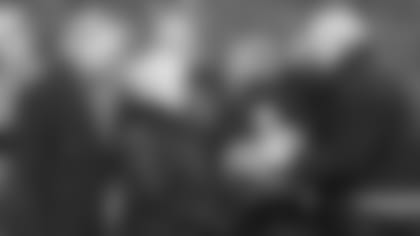 Mrs. McCaskey has always been grateful for the support the Bears receive from their diehard fans.
"When people talk to me about things that they think should change, it's usually 'we need to do this.' It isn't you. It isn't they. It's we," she said on "Inside the Bears." "We have a wonderful bond with people we don't even know."
"For all of us—her children and grandchildren—she's a source of daily inspiration." Bears chairman George H. McCaskey
Reflecting on Bears history
One highlight for fans came in June 2019 when Mrs. McCaskey joined George during a panel discussion at the Bears100 Celebration, a three-day event in Rosemont that kicked off the franchise's 100th season. The entire 2019 team and about 130 former players attended the once-in-a-lifetime gathering.
"These days here for the centennial celebration, I'm still trying to find words for what they've meant to me and I hope to all of you," Mrs. McCaskey told an enthusiastic crowd. "It has made me even more grateful for what my life has been and the position that I'm in. There are so many privileges and perks and blessings, I just can't believe that I'm here and I'm enjoying life at my age the way I am."
Mrs. McCaskey captivated the fans in attendance by sharing her memories from the early days when her father and the NFL struggled financially. While the NFL has grown into a multi-billion dollar industry with millions of fans worldwide, the early days weren't easy.
"I didn't realize it when I was growing up, but there were difficult years in the late '20s and early '30s," Mrs. McCaskey said. "My dad had the Chicago Bears, but he was also part owner of a commercial laundry company, he worked in real estate, he even tried selling cars. I often use the word 'survival' because that's what was involved. Fortunately for us and for so many people now, it all worked out."
Mrs. McCaskey revealed that Walter Payton is her favorite Bears player of all time and also discussed the famed 1985 championship squad.
"That was a very unusual team and a very unusual season because so much of the normal stress of game day seemed to be disappearing," she said. "We could go to the game and not be completely knotted up inside. There was so much confidence in everyone, and except for the game in Miami, everything turned out very well."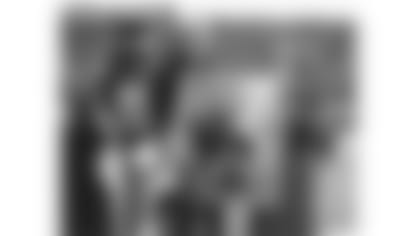 Sadly, Payton passed away Nov. 1, 1999 due to bile duct cancer at the age of 45. More than 20 years later, Mrs. McCaskey remains close with Walter's widow Connie, son Jarrett and daughter Brittney.
"She's always made me feel welcome from the very beginning," Connie said. "I think back to the mid-'70s when we first came here and going to the luncheons, I just felt like she and I had a connection. I've always felt like she was family. She's truly somebody I highly respect and value not only as a businesswoman but as a mother and just as a woman, with all of her wisdom and knowledge. She's just this real good-hearted, kind woman. Every time I see her, there's always a smile on her face. She's truly somebody I look up to and admire."