Popular on college campuses early in the 20th century, dance cards were used by women to list the names of the partners they intended to dance with at a formal ball.
How exactly is that random historical fact relevant to the Bears? The connection is due to a gesture that coach Matt Nagy made in early December after his team had lost its sixth straight game, falling to 5-7 and seemingly out of playoff contention.
Two days after the Bears blew a late 10-point lead in a home loss to the Lions, Nagy handed out "dance cards" to every player inscribed with "Sunday, January 3rd, 2021, 7:00 PM." It was Nagy's way of showing his team that he was confident they'd rebound from their skid and eventually have a "dance partner" in the NFC playoffs.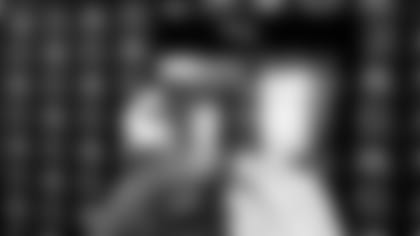 The Bears did in fact bounce back from their humbling loss to the Lions by winning their next three games over the Texans, Vikings and Jaguars to remain in the playoff race. Nagy's team lost to the Packers in Sunday's regular-season finale but qualified for the postseason as the NFC's third and final wild card when the Cardinals lost to the Rams.
So on Jan. 3rd at 7 p.m., the Bears (8-8) were able to fill out their dance card—just as Nagy had anticipated they would all along—with the NFC South champion New Orleans Saints (12-4). The Super Wild Card Weekend game is scheduled to kick off at 3:40 p.m. Sunday.
"We weren't sure if it was going to be 4-0 or if it was going to be 3-1, but here we are and we're able to play the Saints," Nagy said. "I want our guys to understand that and feel that. These players, they earned it. The last four games of the year, to be where we were at after those six [consecutive losses] wasn't easy, but they fought. And that's a credit to them, that's a credit to our coaches."
The Bears became the third team since the NFL-AFL merger in 1970 to make the playoffs despite a six-game losing streak, joining the 1970 Bengals and 2014 Panthers. And although they lost to the Packers, Bears players aren't going to apologize for "backing in" to the postseason.
"They understand that they earned it," said Nagy, who has guided the Bears to the playoffs twice in three seasons as coach. "They worked hard.
"No one's going to take that away from these players. They've invested a lot. Unless you're in that building and you understand what they do in these meetings, you understand what they do in practice, you understand what they put out there on game day, they earned these last four weeks.
"No, [an 8-8 record] is not perfect. We understand that. It's not perfect. We have a lot of things to get better at, but we can't worry about that. Now what we need to do is worry about everything we can to be the best team that we can on Sunday against the Saints."
Even though their 8-8 regular season was far from perfect, there are 18 NFL non-playoff clubs who would love to be in the Bears' dance shoes.
"There are a lot of other teams right now who are trying to figure out their flights home today and where they're going, and we're not," Nagy said. "I think that's again something we're going to build off of and we're proud of. But we're not satisfied."
After reviewing tape of the Packers loss with his assistants Monday, Nagy is eager to begin preparing for Sunday's playoff game.
"I'm excited to get with these guys [Tuesday] on our Zoom call," said the Bears coach, "and really just get a good flow with them in regards to here's where the Saints are at, where they've been at, where we're at, and put this Packers game behind us because now it's a new season."