ChicagoBears.com senior writer Larry Mayer speaks with coach Lovie Smith about the most pressing issues involving the Bears every Wednesday during the season.
LM: What are your thoughts on the signing of veteran offensive lineman Andre Gurode, who joins the Bears after guards Lance Louis and Chris Spencer were injured in last Sunday's win over the Vikings?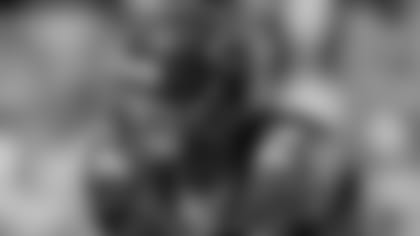 Bears tackle Gabe Carimi played guard for the first time in his career last Sunday after the Bears lost Lance Louis and Chris Spencer to injuries.
LS: "He's a veteran who's been a good player in the league for a long time. We're fortunate to be able to pick up a player like Andre. Losing two offensive linemen in the same game doesn't happen very often. Two backup linemen suit up each week and almost never have to play. To get a player like Andre this late in the season is saying a lot."

LM: Gurode has played 10 NFL seasons with the Cowboys and Ravens. How valuable is that experience?

LS: "His experience is very valuable because we have some young players like James Brown, who just moved up [to the 53-man roster] a week ago and will have to step up. Like I said, we're fortunate to be able to bring in a guy who's been involved in playoff runs and who can still play and is really excited about what may be his last chance in the league."

LM: With continuity being so important on an offensive line, how challenging is it to put together a starting five with all the changes that have to be made due to the injuries?

LS: "It is a challenge because you would like to lock in your starting five and let them play together. But injuries come up. It's part of the game. I'm just glad we had options when the injuries came up. What Gabe Carimi was able to do without any practice, going in like that [at right guard] and helping us win a game is saying a lot. Edwin Williams has started for us. So we know that he's a good solid backup."

LM: You've been involved in football since your days at Big Sandy High School. Have you ever lost both starting guards to injuries in the same game?

LS: "I've never been a part of anything like that. I can't even remember losing two starting offensive linemen, period, in the same game. That's like losing both quarterbacks in a game. It just doesn't happen."

LM: What's the key to getting all five starting offensive linemen on the same page for Sunday's game against the Seahawks?

LS: "We've had a chance to evaluate the guys on our roster. The key to me is to make a decision in terms of who we're going with and then getting them reps in practice. You want to have that group of five start working together as soon as you possibly can, and that's what we're going to do. It's good that we're not on a short week like we were last week after our Monday night game. We have a full week of practice. We're back to a normal game week routine, which is also good for us. We only have one more week we can be in pads too. So being able to practice in pads one day this week is going to help our guys. You just want to do as many things as you possibly can to get them up to be speed as soon as possible."