Last week during the NFL Combine, the Bears conducted formal interviews with 45 of the 319 draft prospects invited to the annual event. Scouts, coaches and front office members have just 18 minutes to evaluate a player's potential physical and cultural fit in the organization.
While general manager Ryan Poles, coach Matt Eberflus and specific position coaches may be the most involved in the interview process, Bears director of wellness Carla Suber and director of mental skills & performance Mike Wiley Jr. play two of the most pivotal roles in the room.
Suber – who became the team's full-time clinician in 2020 – and Wiley – who Poles hired in July 2022 – don't do any of the talking during the 45 formal interviews. Instead, they strictly observe, likening their roles to flies on the wall. They watch the player's body language and listen to their tone of voice. They take notes on how comfortable the player is talking about their past experiences and how they operate in a high-pressure space.
As the pair takes in the same information, Suber filters it through an interpersonal lens, focusing on an off-the-field perspective while Wiley analyzes it through an on-the-field, performance-based lens. Although the information consumed goes in two different directions, Suber and Wiley often land in the same spot and later translate that conclusion back to Poles, Eberflus and other coaches/scouts.
Attending the 2023 NFL Combine, which wrapped up last weekend, was a first for both Suber and Wiley. In previous years with the team, Suber's involvement in interviews has come after the Combine during top-30 visits. For Suber and Wiley to go through the same week-long rigorous process of Combine interviews, which often last until 11 p.m. each day, right beside the players, has given them "a different sense of empathy and respect for their journey."
"There's a heavy experiential element to understanding what they're dealing with," Wiley told ChicagoBears.com. "To be here, it's invaluable experience for us to witness what they have to go through to get to this level and to really be in those rooms and hear the conversations that they have to see how they manage it. And to also remember that these are young men that are on a journey to change their lives essentially, and sometimes change their family's lives.
"Knowing that they're managing all of that while still coming here and trying to have the best interview, trying to have the best workouts, it helps us really understand what it took for them to get here and then how to help them once they do arrive."
"We're not looking at these young men when they come in as just football players. We are looking at the totality of the person." Carla Suber
Suber deals with the general life challenges players face like those in families or relationships and mental health issues like anxiety or depression. Some of her priorities are managing the life transition these players are enduring and shifting their mindset to understanding, "you are a young professional; this is your job now."
Poles values Suber's ability to "get guys to feel really good about themselves and where they're at in their career and take a deep breath." He believes providing the players clarity and peace of mind in their personal lives is a crucial piece in them playing the game at full speed.
"We're not looking at these young men when they come in as just football players," Suber said. "We are looking at the totality of the person. And I say this many times throughout the year when I'm in front of the team, my personal goal is for them to be happy, healthy, whole humans. Football is how you kind of came into my space, but I know that you're much more than that. So I appreciate that the Bears are looking at them from a very holistic standpoint."
Introducing both Suber and Wiley to players as early as the Combine is one of the first steps to a draft prospect feeling comfortable if they were to end up in Chicago. When a player gets drafted, they uproot their life and oftentimes leave family and friends to move to an unfamiliar city.
Suber and Wiley value being familiar and comfortable presences for these players during one of the most formative moments of their lives. Creating that foundation of trust in March makes all the difference come training camp and the start of the season when players begin to need the resources Suber and Wiley provide.
Around this time last year, Suber interviewed Kyler Gordon as a draft prospect, and the cornerback later became the Bears' first second-round pick. When Gordon arrived at Halas Hall following the draft, one of the first people he recognized was Suber. She recalls Gordon seeing her, yelling "Miss Carla!" down the hallway and giving her a hug.
"It's a very overwhelming experience because you get drafted on one day and you're literally on a plane the very next day, uprooted and coming to see where you're going to live for like the next four years," Suber said. "So I think for them being able to come into the building already with someone who they have a level of familiarity with, it just kind of gives them a sense of comfort, like, 'okay, you know what? I like them. They were cool. I'm fine going here.'"
"Just knowing that our presence is there every single day ... they can walk through that door and they'll get the help that they need." Mike Wiley Jr.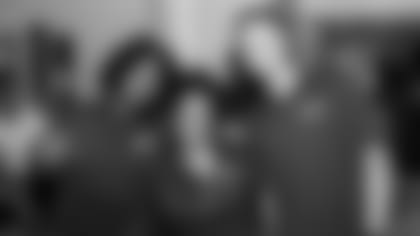 Once all the new faces arrive in Chicago whether it's draft picks, undrafted rookies or free agent signings, Suber and Wiley's job reaches a different level of importance. Their roles become rooted in consistency and confidentiality.
For most players who end up utilizing Suber and Wiley throughout the season, they don't automatically head into their offices, sit down and start detailing the issues they're facing. Oftentimes the relationship forms through casual conversation in the hallway or at the smoothie bar in the cafeteria.
Having those quick, informal chats allow Suber and Wiley to slowly break down barriers to create an organic connection with players as the athletes find them approachable and safe to confide in.
"They may see us for months and months on end and have plans to come see us and maybe not necessarily walk through our door," Wiley said, "but just knowing that our presence is there every single day, so when they decide to do that, they can make that jump. They can walk through that door and they'll get the help that they need. I'm sure Carla has had some players, I know that I've had some players, that have done that where they've waited a bit. They felt us out. They've gotten to know us and then they decided to actually use what we're here for."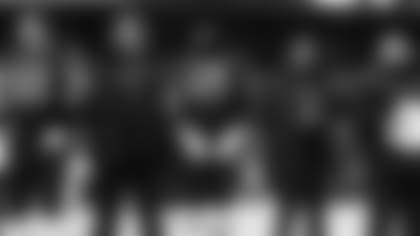 As free agency begins on March 15, Suber and Wiley will also be at the forefront of meeting and acclimating those veteran players into the Bears' culture.
While this is Wiley's first offseason with the club, Suber served in that role last year. Bears offensive lineman Lucas Patrick, who signed with the team at the start of free agency in 2022, recalls Poles and Eberflus immediately hitting on the mental health resources the organization provided. Patrick and his wife were introduced to Suber and Poles even shared his intention of bringing in Wiley's position with the veteran.
"You never want to overpromise and under-deliver," Patrick told ChicagoBears.com. "You want someone, the leader of the organization in both, Ryan and Matt to talk about that, talk about mental health in front of the team and be open to us about it, but then also hire two resources for that. It'd be different if they were saying this and doing it and checking the box. They're not check-the-box men in their lives but definitely not when it comes to the mental aspect."
Patrick, who spent his first six seasons in the NFL with the Packers, spent a little more time with Wiley and Suber in 2022 than he originally planned. At the start of training camp, Patrick injured his thumb, leaving him sidelined for most of the preseason. Then in Week 7, Patrick left the Patriots game with a toe injury and would miss the remainder of the year.
"To have two surgeries in one season and especially in this part of my career where I'm supposed to be playing amazingly and all things are going right," Patrick said, "it was definitely very tough, and it was good to have both resources. You can utilize each resource in a different way. It's not necessarily sitting down and going through things and unpacking and it's not just doing nothing. It can be passing in the hallway. It can be listening to when they're speaking from the team. It could be a personal time. It can be in their office.
"Just to have that is huge because when you as a player don't feel like you're living up to why you were brought to a place, it weighs on you heavy, especially when there's an injury added."
"There's a different sense of pride and joy I feel because I also understand that is a person and I think sometimes that gets lost in all of the media hype ..." Carla Suber
Patrick said having two different mental health experts in the building at all times gives the Bears "a winning edge," as it helps "every guy maximize themselves when they might be in their lowest point."
Watching players like Patrick interact with Suber and Wiley over the past year, Eberflus has observed their natural ability to be approachable and foster confidence in each person, adding they both "have a great heart of service."
Providing that layer of comfort and being a consistent supporter for a player or staff member is what Suber and Wiley aim to accomplish every day. And it's always the most fulfilling part of the job. While it's common for professional athletes' mental challenges to get lost in society's larger-than-life view of the players, Suber and Wiley take the most pride in knowing and helping "the person behind the helmet."
"When I see them play on Sunday, yeah, I am a football fan and I love watching football, which is probably why I'm in this job too," Suber said. "But different there's a different sense of pride and joy I feel because I also understand, that is a person and I think sometimes that gets lost in all of the media hype because a guy is so good and so talented. We just look at them for those [physical] attributes and not what makes them that whole human."
To watch more from Lucas Patrick, Carla Suber and Mike Wiley Jr., watch the Digital Extras below:
More behind-the-scenes access to Suber and Wiley's NFL Combine experience can be seen on the next episode of 1920 Football Drive premiering Sunday, March 12 at 7 p.m. (CT) EXCLUSIVELY on the Chicago Bears Official App brought to you by Verizon.