Marc Trestman helped quarterbacks Steve Young, Rich Gannon and Jake Plummer all raise their level of play during 17 seasons as an NFL offensive coordinator and position coach.
But the new Bears coach's greatest success just may be what he accomplished in the Canadian Football League with Montreal Alouettes veteran quarterback Anthony Calvillo.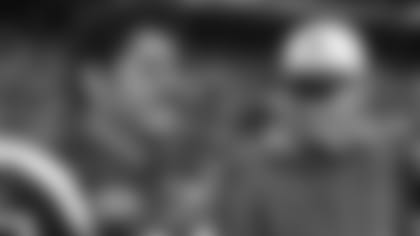 Quarterback Anthony Calvillo and coach Marc Trestman won back-to-back Grey Cup titles together with the Montreal Alouettes in 2009 and 2010.
Working closely with Trestman the past five seasons, Calvillo was named the CFL's most outstanding player in 2008 and 2009 and led the Alouettes to Grey Cup championships in 2009 and 2010.

"I've been around a lot of different coaches, but I've never been around a coach that's so detailed across the board," Calvillo told ChicagoBears.com. "It was the entire offense, from the offensive linemen to the receivers being in the right spot at the snap of the ball.

"It was all those little details that were so important in order for us to have success. Once everybody was on the same page, there were no [questions], and we knew we were going to have success based on that knowledge."

Calvillo has played 19 seasons in the CFL, the last 15 with the Alouettes. He is the league's all-time passing leader with 78,494 yards and is one of five pro quarterbacks to have thrown over 400 touchdown passes, joining Brett Favre, Warren Moon, Peyton Manning and Dan Marino.

Although Calvillo won one CFL title and one outstanding player award before Trestman arrived in Montreal, the new Bears coach helped the quarterback take his game to the next level.

In 14 seasons before the two worked together, Calvillo threw at least 30 TD passes three times and posted a passer rating over 100 on two occasions. Under Trestman, Calvillo passed for 30 TDs in four of five seasons and had a 100 passer rating in each of their first three seasons together.

The most remarkable stat—and one that figures to pique Jay Cutler's interest—is that the Alouettes allowed only 22 sacks in Trestman's first season in 2008 after permitting 68 the previous year.

"He came in and changed our blocking scheme to make sure that the quarterback had the best opportunity to finish his throwing motion," said Calvillo, who passed for a career-high 43 TDs in 2008. "That was one thing he stressed.

"The crazy thing is we didn't release any of those offensive linemen. It was the same five guys blocking. He just put his own stamp on our protection, and it was a huge difference."

Calvillo was impressed with Trestman's ability to prepare for different opponents from week-to-week, constantly tweaking and tinkering with the game plan.

"He's good at adapting," Calvillo said. "He doesn't want to just settle on what you did the week before. He's very demanding in terms of making sure that you're ready for the next week.

"He's always changing things up. I had to study so much week-in and week-out because he wants to challenge you and he wants to make sure the defense doesn't get comfortable with what we're doing. There are always a bunch of new plays going in week-in and week-out simply because he doesn't want to be this vanilla offense."

Calvillo is convinced that Trestman will succeed as coach of the Bears.

"I think he's going to do very well," Calvillo said. "He has had so much experience down there in the NFL. He came up to our league not knowing one thing about it and had tremendous success. He's a very intelligent guy. He never acts on impulse. Everything he does is all thought out, and that's always been very impressive to me."