Throughout his coaching career, Marc Trestman has always welcomed the input of his starting quarterback in formulating weekly game plans, and that won't change this year.
The Bears coach has worked closely with Jay Cutler in the days leading up to Sunday's opener against the Cincinnati Bengals and will continue to do so all season.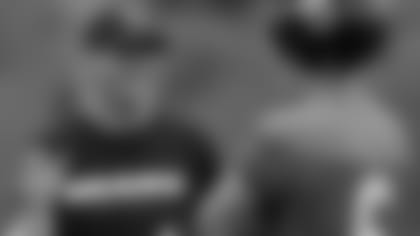 Bears coach Marc Trestman chats with quarterback Jay Cutler during practice at Halas Hall.
"We'll get together every Tuesday, generally, after he's looked at tape," Trestman said. "He spends Monday and Tuesday looking at tape just like we have. One of the first things I'll do as I begin to put the game plan together is to talk to him about what he sees, his strengths and weaknesses.

"He's got experience playing against players, personnel, what he feels can be successful against the players we're playing against. That's all part of it. Toward the end of the week we pare the game plan down to things he really likes. We talk every day about the things he really liked that we did, and if there's something we need to throw out, we've got plenty of plays.

"We've always got a number of plays we can throw out and we won't feel any difference in the size of the game plan. So he's certainly instrumental. Quarterbacks always have that in the final trimming of the game plan as we move through the week."

Trestman was hired by the Bears after spending 17 seasons as an NFL offensive coordinator and position coach and the last five years as head coach of the CFL's Montreal Alouettes.

One of Trestman's main attributes that enticed the Bears was his track record developing quarterbacks. Under his tutelage, Steve Young helped the 49ers lead the NFL in scoring and passing yards in 1995, the Raiders' Rich Gannon was named NFL MVP in 2002, and the Alouettes' Anthony Calvillo won back-to-back league MVP awards in 2008-09.

During the offseason, Cutler studied tape of Gannon operating Trestman's offense.

"He slung it around," Cutler said. "They had a lot of empty sets, a lot of shifts and motions and quick games. The ball was gone. He was fun to watch. He threw it from about every angle possible. He was very, very successful under 'Trest' and these guys."

Watching plays executed on tape helps Cutler envision the way they're supposed to look.

"It's so much better," said the Bears quarterback. "You can look at a picture and look at drawings and arrows all day long, but until you really execute it and see it executed right or watch it on film and see somebody else do it does it really start to click with you.

"If he installs a play and then he shows someone in the past doing it, you're like 'OK, I see how that works. I see how it fits in the defense.' It becomes 3-D instead of just a sheet of paper."

Trestman has enjoyed working with Cutler, but knows the quarterback has let his emotions get the best of him on a couple of occasions in previous seasons.

"He's appeared to be even-keeled throughout," Trestman said. "We really won't know until some adversity hits. He's a fiery guy and I think people know that. He's a very competitive, tough man and tough player, so I expect some of that to come out as we move along."

If Cutler does have an emotional outburst, Trestman knows how he will handle it.

"One thing with any of our players, we know they're working hard," Trestman said. "We know they're committed to the game. We know that. I think his demeanor, because he is the quarterback, is critically important. I think there's going to be moments like that; that's just part of who he is and I'm not going to take that away from him.

"From my standpoint, I don't think you're going to see somebody firing back. I'm going to let him wear himself out, get it off his chest, and tell him to go back and play the next play. At the end of the day, I know that when a player gets that way, that's not really who he is. It's an emotional game and guys are going to lose it for a minute.

"The most important thing is to get back to move on to the next situation. That's what I hope to do is to just be there to help him get on to the next play, the next quarter, the next game, whatever it might be. That's part of my job to help him do that."