Although Zach Miller's football future remains uncertain due to a devastating knee injury, the Bears on Monday re-signed the veteran tight end to a one-year contract.
Playing against the Saints last Oct. 29, Miller suffered a dislocated knee and torn popliteal artery while catching an apparent 25-yard touchdown pass that was later reversed to an incomplete pass following a replay review.
The veteran tight end was rushed to the University Medical Center in New Orleans, where he underwent emergency vascular surgery. Bears doctors and trainers helped save his leg by quickly diagnosing a vascular issue that required immediate attention.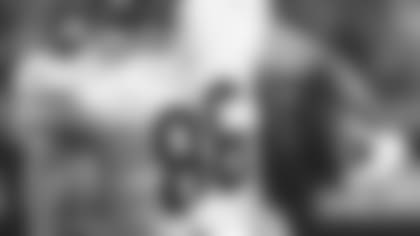 Tight end Zach Miller runs up field with the ball during a 2017 preseason game.


Miller, who continues to rehab at Halas Hall, had a breakout year with the Bears in 2015 after missing the three previous seasons due primarily to injuries. In 2015, he caught 34 passes for 439 yards and a team-leading five touchdowns.
Miller followed in 2016 with 47 receptions for 486 yards and four touchdowns before suffering a season-ending foot injury in a Week 11 road game against the Giants.
Miller's success with the Bears was a long time coming. After appearing in 33 contests with five starts with the Jaguars from 2009-11, he spent the 2012 season on injured reserve with the Jaguars, failed to make the Buccaneers roster in 2013 and landed on injured reserve again with the Bears in 2014.
Miller traveled a unique path to the NFL even before he was bitten by the injury bug. A quarterback at Nebraska-Omaha, he was immediately converted to tight end after being selected by the Jaguars in the sixth round of the 2009 draft. His only experience at his new position in college came in the Cactus Bowl, a Division II all-star game.
The Bears' decision to re-sign Miller received universal praise on Twitter: