Miller Lite Chicago Bears Headquarter Bars
Miller Lite Chicago Bears Headquarter Bars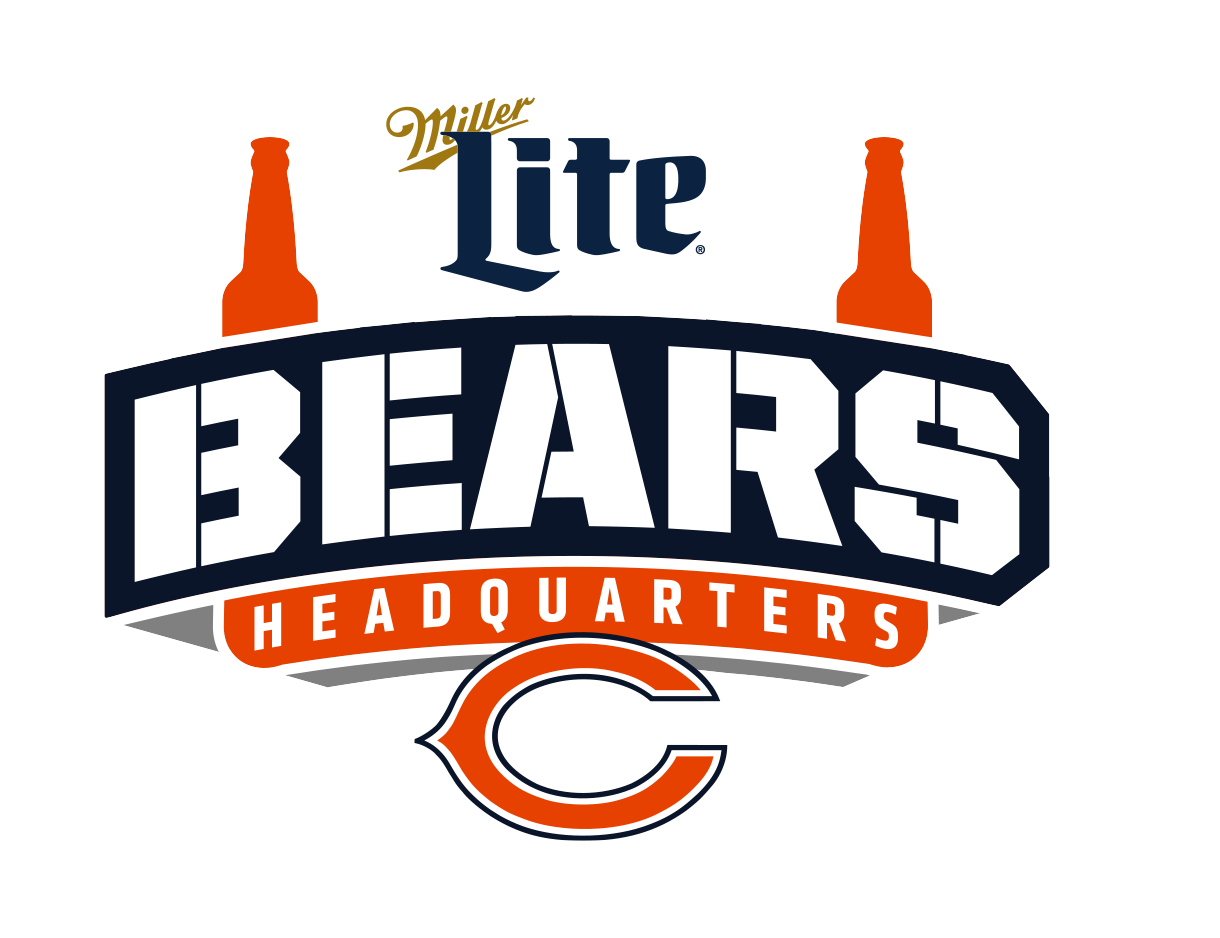 Official Miller Lite Chicago Bears Headquarter Bars can be found all over Chicagoland.
Find your nearest HQ bar* below so you know where you can cheer on the Bears on gameday when you're not at Soldier Field.
*Please be sure to practice social distancing and follow all CDC guidelines when visiting a bar and/or restaurant. Additional information on Illinois' COVID-19 guidelines can be found here. If you are experiencing any COVID-19 symptoms, please stay home.

Augie's
1721 W Wrightwood Ave
Status: Closed
==============
Benchmark
1510 N Wells St
Status: Closed
==============
Butch McGuire's
20 W Division St
Status: Open
==============
Butcher's Tap
3553 N Southport Ave
Status: Open
==============
Celtic Crown
4301 N Western Ave
Status: Closed
==============
Corcoran's Grill & Pub
1615 N Wells St
Status: Carry Out Only
==============
Cortland's Garage
1645 W Cortland St
Status: Open
==============
Draft Bar
8221 W Irving Park Rd
Status: Open
==============
Dunning Pour House
7718 W Addison St
Status: Open
==============
Edison Park Inn
6715 N Olmsted Ave
Status: Open
==============
Emerald Isle
6686 N Northwest Hwy
Status: Carry Out Only
==============
Emerald Loop Bar & Grill
216 N Wabash Ave
Status: Open
==============
Finley Dunne
3458 N Lincoln Ave
Status: Carry Out Only
==============
Firewater Saloon
6689 N Oliphant Ave
Status: Carry Out Only
==============
Flagship Tavern
1622 W Belmont Ave
Status: Open
==============
Full Shilling Public House
3724 N Clark St
Status: Open
==============
Galvin's Public House
5901 W Lawerence Ave
Status: Open
Gaslight Bar & Grille
2450 N Clark St
Status: Closed
==============
Glascott's Saloon
2158 N Halsted St
Status: Closed
==============
Gracie O'Malley's
1635 N Milwaukee Ave
Status: Closed
==============
The Harding Tavern
2732 N Milwaukee Ave
Status: Open
==============
Hawkeye's Bar
1458 W Taylor St
Status: Open
==============
Highline
169 W Kinzie St
Status: Closed
==============
Hopsmith
15 W Division St
Status: Open
==============
Houndstooth Saloon
3369 N Clark St
Status: Open
==============
K's Dugout
1930 W Foster Ave
Status: Open
==============
Kirkwood Bar & Grill
2934 N Sheffield Ave
Status: Closed
==============
The Lodge
21 W Division St
Status: Open
==============
Lottie's Pub
1925 W Cortland St
Status: Open
==============
Mac's Wood Grilled
1801 W Division St
Status: Open
==============
Martin's Corner
2058 W 22nd Pl
Status: Closed
==============
McGee's Tavern & Grille
950 W Webster Ave
Status: Closed
==============
Moretti's Edison Park
6727 N Olmsted Ave
Status: Carry Out Only
==============
Mother Hubbard's Sports Pub
5 W Hubbard St
Status: Closed
==============
O'Donovan's
2100 W Iriving Park Rd
Status: Open
Output Wrigleyville
3720 N Clark St
Status: Closed
==============
Paddy Mac's
4157 N Pulaski Rd
Status: Closed
==============
Park & Field
3509 W Fullerton Ave
Status: Open
==============
Paterno Pizza
5303 N Milwaukee Ave
Status: Closed
==============
The Pony
1638 W Belmont Ave
Status: Open
==============
Rizzo's Bar & Inn
3658 N Clark St
Status: Open
==============
Royal Grocer
2118 N Damen Ave
Status: Open
==============
She-Nanigan's
16 W Division St
Status: Open
==============
Standard Bar & Grill
1332 N Milwaukee Ave
Status: Open
==============
The Store
2002 N Halsted St
Status: Closed
==============
Tavern on the Point
6724 N Northwest Highway
Status: Open
==============
Teaser's Pub
7123 W Higgins Ave
Status: Closed
==============
Tommy's On Higgins
6954 W Higgins Ave
Status: Closed
==============
Trace
3714 N Clark St
Status: Closed
==============
Vaughan's Pub & Grill
5485 N Northwest Hwy
Status: Closed
==============
Vintage Bar
1449 W Taylor St
Status: Open
==============
Whiskey Business
1367 N Milwaukee Ave
Status: Open

Arlington Heights
Cortland's Garage
1 N Vail Ave
Status: Open
​==============
Gatsby's Pizza & Pub
427 E Rand Rd
Status: Open
​==============
Eddie's
10 E Northwest Hwy
Status: Carry Out Only
​
Des Plaines
Beacon Tap
1374 Lee St
Status: Open
​
East Dundee
Bandito Barney
10 N River St
Status: Open
​==============
Diamond Jim's Tavern & Gas Grill
325 Meier St
Status: Open
​
Elgin
Dutch Inn
2288 Foothill Rd
Status: Open
==============
Old Republic Kitchen + Bar
155 S Randall Rd
Status: Open
==============
Rookies Sports Bar & Grill
2486 Bushwood Dr
Status: Open
​
Elk Grove Village
Real Time Sports Bar
1120 W Devon Rd
Status: Open
​
Gilberts
Pub 72
38 E Higgins Rd
Status: Open
​
Hanover Park
Time Out Sports Bar
6025 South La Grange Rd
Status: Closed
​
Harwood Heights
Barrelhouse
5100 N Harlem Ave
Status: Carry Out Only
​
Hoffman Estates
Neighborhood Inn
2322 Hassell Rd
Status: Open
​==============
Rookies Sports Bar & Grill
4607 W Higgins Rd
Status: Open
​==============
First Place Sports Bar & Grill
1736 W Algonquin Rd
Status: Carry Out Only
​
Morton Grove
Moretti's Morton Grove
6415 Dempster St
Status: Closed
​==============
Tommys Tavern & Restaurant
9005 Waukegan Rd
Status: Closed
​
Mt Prospect
Draft Picks
912 S Busse Rd
Status: Open
==============​
Pap's Ultimate Bar & Grill
1904 Elmhurst Rd
Status: Carry Out Only
​==============
Station 34 Pizza Pub
34 S Main St
Status: Carry Out Only
​
Niles
Chasers Bar & Grill
9003 N Milwaukee Ave
Status: Open
​==============
Howard Street Inn
6700 W Howard St
Status: Open
​==============
Play Book Sports Bar
6913 N Milwaukee Ave
Status: Carry Out Only
​
Norridge
City Tap And Grill
7320 W Irving Park Rd
Status: Open
​
Palatine
Gators Wings Shack Grill & Pizzeria
1719 N Rand Rd
Status: Open
​==============
Lamplighter Inn
60 N Bothwell St
Status: Open
​==============
TJ O'Brien's Bar & Grill
53 W Slade St
Status: Open
​
Streamwood
Chicago Loop Sports Bar And Grill
7 W Streamwood Blvd
Status: Open
​
Wauconda
Jet's Public House
6148 N Milwaukee Ave
Status: Carry Out Only
​
Wood Dale
Crossroads Tavern & Eatery
396 W Irving Park Rd
Status: Open
​==============
Thornwood
1051 N Wood Dale Rd
Status: Open

Aurora
Mike & Denise's
1760 N Farnsworth Ave
Status: Open
==============
Paulie's Pub
444 N Eola Rd
Status: Open
==============
The Piazza
85 Executive Drive
Status: Open
==============
The Town Bar & Grill
2681 E New York St
Status: Open
​
Countryside
Kenny's Irish Pub
917 W 55th St
Status: Open
==============
Time Out Sports Bar
1130 E. Lake St
Status: Carry Out Only
​
Downers Grove
Another Round
5141 Main St
Status: Open
​
Hodgkins
Salerno's Pizzeria & Sports Bar
9301 W 63rd St
Status: Open
​
Joliet
James Joyce Irish Pub
7138 Windsor Ave
Status: Closed
​
La Grange
Monk's Burgers & More
88 South La Grange Road
Status: Open
==============
Palmer Place
56 South La Grange Road
Status: Open
​
Lisle
Maple Avenue Pub
1227 Maple Ave
Status: Open
​
Lyons
Hall of Fame Sports Grill
8143 47th St
Status: Open
==============
Marlins
7236 39th St
Status: Open
​
Naperville
Crosstown Pub & Grill
909 E Ogden Ave
Status: Open
​
Palos Heights
JL's Pizza & Sports Bar
19 N Bothwell St
Status: Open
​
Tinley Park
Junior's Bar & Grill
7011 Ogden Ave
Status: Open
​
Westmont
Uptown
12 W Burlington Ave
Status: Open
​
Woodridge
Legends Bar & Grill
6320 IL-53
Status: Open
​
Yorkville
Legends Grill & Bar
620 W Veterans Pkwy
Status: Open
==============
Mike & Denise's
728 Veterans Pkwy
Status: Open
==============
Roadhouse Country Bar & Grill
1901 S Bridge St
Status: Open
==============
Yorkville Bowl
1205 N Bridge St
Status: Open
==============
Rosati's Pizza
1985 Marketview Dr
Status: Closed

Addison
601 Bar & Grill
601 W Army Trail Blvd
Status: Open
==============
American Tap
701 W Lake St
Status: Open
==============
Pyramid Pizza & Sports Bar
236 W Lake St
Status: Open
​
Bartlett
Bannerman's Sports Grill
858 S IL Route 59
Status: Carry Out Only
​
Batavia
Crosstown Pub & Grill
1890 Mill St
Status: Open
==============
Riverside Pizza & Pub
142 W Wilson St
Status: Closed
​
Berwyn
JT's Corner Tap & Eatery
1022 Fountain View Dr
Status: Open
==============
Michael Anthony's
6434 Ogden Ave
Status: Open
==============
Paisans Pizzeria & Bar
6226 Ogden Ave
Status: Open
==============
The Garage Smoke House & Bar
3202 Grove Ave
Status: Open
==============
Fill Up Station
2627 Ridgeland Ave
Status: Closed
==============
Godson's
6910 Windsor Ave
Status: Closed
==============
Off The Traxx
3144 Oak Park Ave # A
Status: Closed
​
Brookfield
Cordial Inn
9207 31st St Meeting Room
Status: Open
==============
Off Broadway Pub
9048 Monroe Ave
Status: Open
==============
Sebastian's Ale House
8900 Fairview Ave
Status: Open
==============
Zubar & Grill
8436 Brookfield Ave
Status: Open
​
Carol Stream
JT Porch Saloon & Eatery
665 W Roosevelt Rd
Status: Open
==============
Chrissy's Gaming Bar & Grill
552 N Gary Ave
Status: Carry Out Only
​
Cicero
Cherrywood Tap
5129 W 31st St
Status: Open
​
Dekalb
Fatty's Pub & Grille
1312 W Lincoln Hwy
Status: Open
​
Elmhurst
Fitz's Pub
172 N Addison Ave
Status: Open
==============
Riley's Gathering Place
590 S York St STE D
Status: Open
==============
Doc's Victory Pub
490 S Spring Rd
Status: Closed
​
Forest Park
Blueberry Hill
427 Des Plaines Ave #1
Status: Open
==============
McGaffer's Saloon
7737 Roosevelt Rd
Status: Open
==============
O'Sullivan's Public House
7244 Madison St
Status: Open
==============
Slainte Irish Pub
7505 Madison St
Status: Open
​
Lombard
Punky's Irish Pub
16 S Park Ave
Status: Open
==============
Sal's Pizza Pub
410 W 22nd St
Status: Open
​
Maple Park
Maple Park Pub
221 Main St
Status: Open
​
Melrose Park
Division Street Tap
1419 N 15th Ave
Status: Open
​
North Riverside
Sweet Spot Inc
2531 Des Plaines Ave
Status: Open
==============
Big Corner Tavern
8405 Cermak Rd
Status: Closed
​
Northlake
The Happy Tapper
121 North Ave
Status: Open
​
St. Charles
Alley 64
212 W Main St
Status: Open
==============
Old Town Pub
40W290 Lafox Rd
Status: Open
==============
Ray's Evergreen
1400 W Main St
Status: Open
==============
Rookies Sports Bar & Grill
1545 W Main St
Status: Open
​
Villa Park
Caps Bar And Grill
347 W Saint Charles Rd
Status: Open
==============
Crazy Pour
105 E North Ave
Status: Open
==============
DeMito's Double D Saloon
335 E Kenileworth Ave
Status: Open
​
West Chicago
Gametime Pub
258 N County Farm Rd
Status: Open
==============
Hawthorne's Backyard
1200 W Hawthorn Ln
Status: Open
​
Wheaton
Rosie O Reilly's
0N131 Gary Ave
Status: Open