Monsters of the Midway Trading Cards | Chicago Bears Official Website

The Chicago Bears "Monsters of the Midway" project has expanded into a classic favorite – player trading cards. In partnership with ATHLiTACOMiCS (founded by former Bears defensive lineman Israel Idonije), Monsters of the Midway first launched in 2018, melding the world of comics and sports.
Through the partnership, the Bears and Idonije's team created an alternate universe where Bears players are depicted as superheroes collectively known as the "Monsters of the Midway." Each "Monster" has his own unique power, which play off his natural skill set as a football player.
The first-ever edition of the Monsters of the Midway Trading Cards features 20 players (20 standard cards; 5 in a special foil version) and will be distributed to fans for FREE during the 2021-22 Chicago Bears season (while supplies last). Each packet will contain 6 different player cards and will be fun collector's memorabilia for Bears fans of all ages.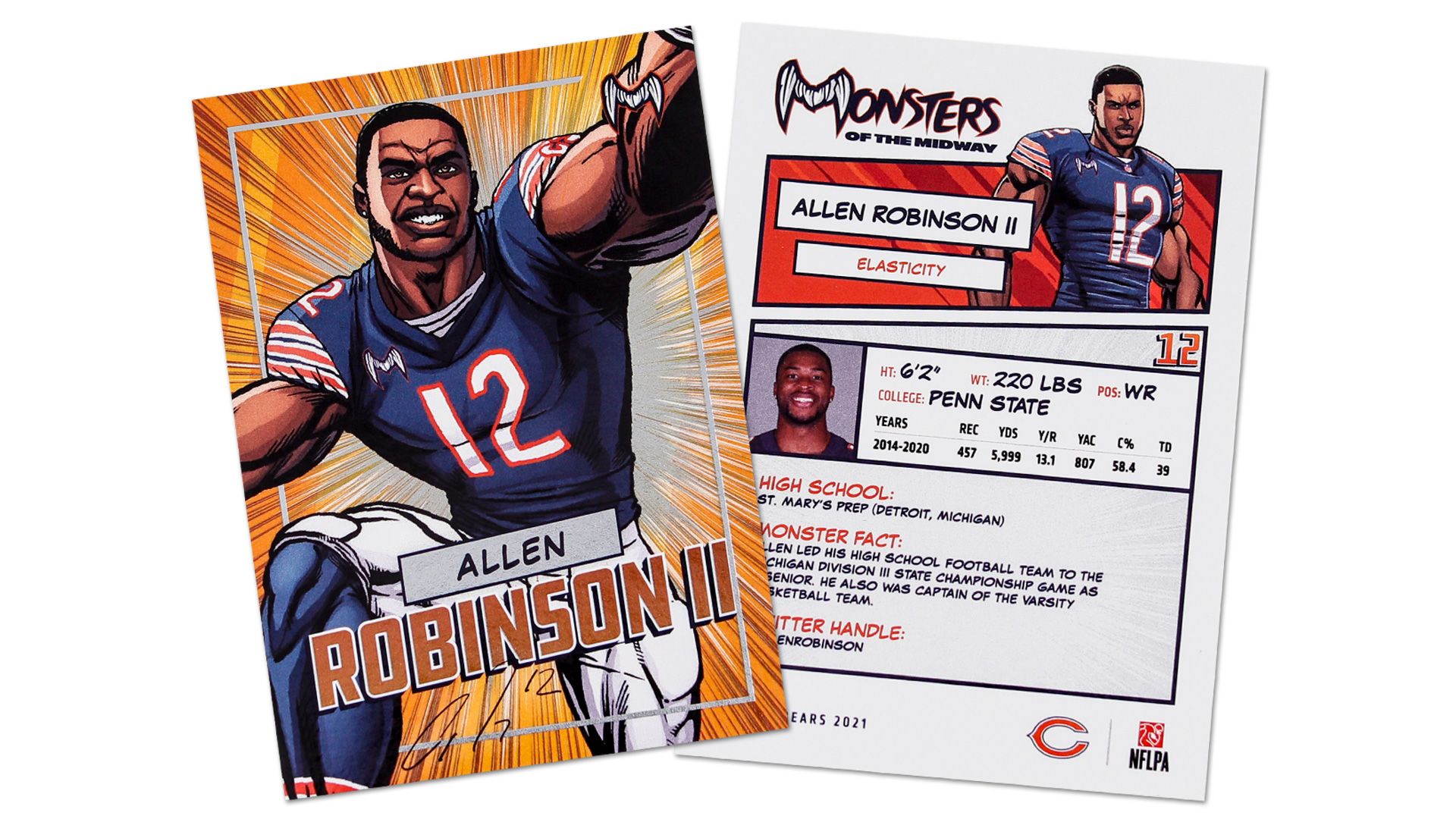 Want to get your hands on some Monsters of the Midway Trading Cards? Be on the lookout at the following places:
There will be more giveaway opportunities with Bears community partners during the season, so check back soon for more details.
Every month during the season, 10 lucky fans that enter the "Monsters of the Midway Trading Card Sweepstakes" will receive a FULL SET of cards including two special, limited-run cards not included in the packs. Enter your information below for a chance to win.
About ATHLiTACOMiCS
ATHLiTACOMiCS, started by former Chicago Bear Israel Idonije, develops custom-designed comic content, comic properties and related merchandise in the merged niche market of comics and sports. Its current creator-owned properties include The Protectors, Sports Heroes and DreamKidz Adventures. Idonije started ATHLiTACOMiCS to appeal to sports fans and comic enthusiasts alike. It is the first company to offer a high-level blend of professional athletics and super-heroic mythology. ATHLiTACOMiCS' mission is to inspire, unite, and entertain the world with incredible art and stories. For more information, please visit http://athlitacomics.com.