Skate With Staley | Chicago Bears Official Website

Join Staley Da Bear for a day of ice skating and fun at Rosemont's Entertainment District on Sunday, February 16. Skate with Staley is FREE and open to the fans of all ages.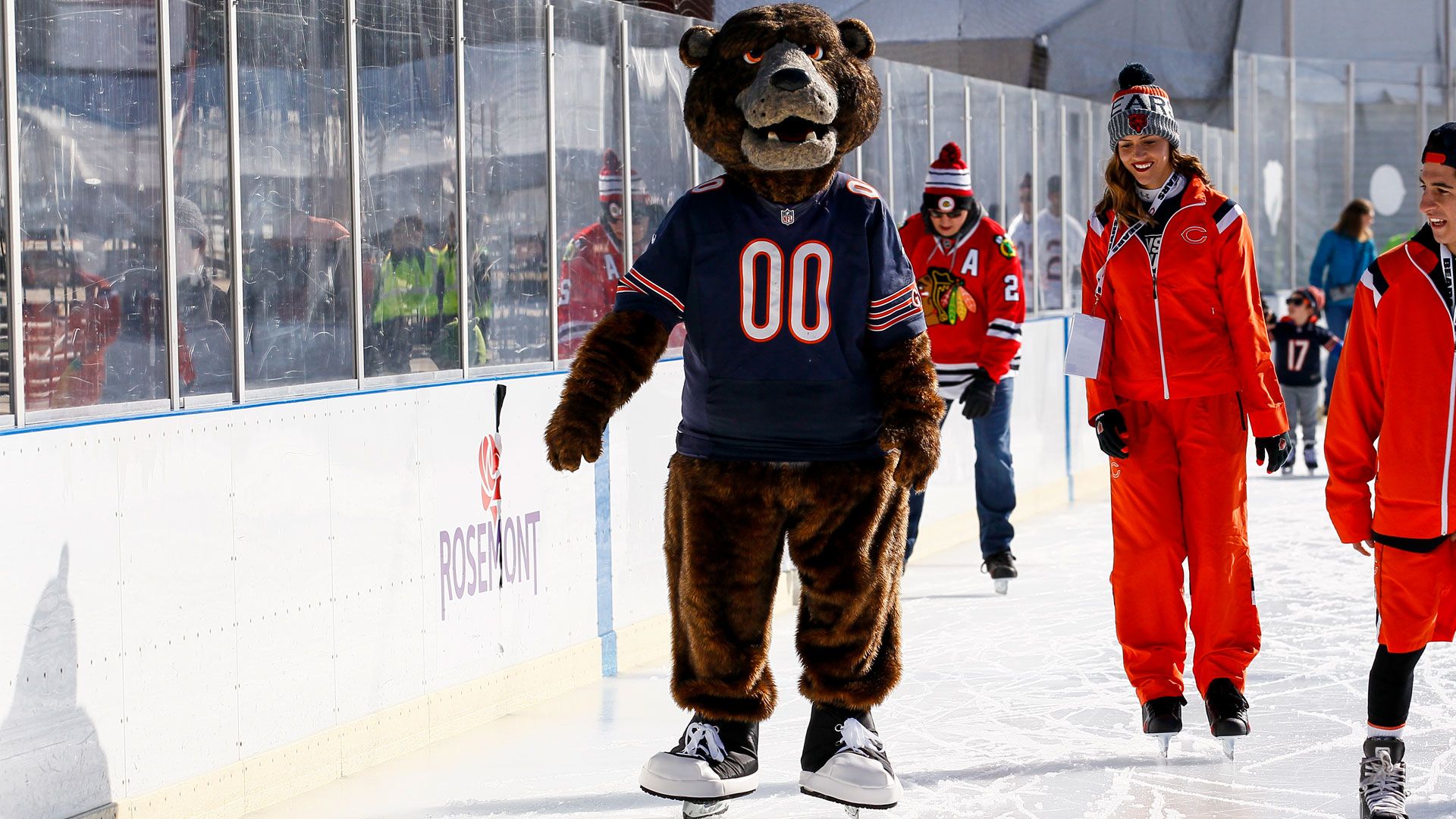 Date: Sunday, February 16, 2020
Location: Outdoor Ice Rink at Rosemont's Entertainment District
5501 Park Place
Rosemont, IL 60018
Skate with Staley begins: 4:00PM
Skate with Staley ends: 8:00PM
How do I "Skate with Staley"?
Staley Da Bear will join fans on the ice rink at various times throughout this event. Please note, Staley will not be available for pictures while on the ice.
Is the event indoors or outdoors?
The event is outdoors. Please dress accordingly.
What are the hours of the event?
Skate with Staley will take place from 4:00PM – 8:00PM, but the ice rink will remain open until 9:00PM. Skating is open to the general public and all event attendees will be allowed to stay at the rink beyond 8:00PM.
Do I need tickets?
No, tickets are NOT required for Skate with Staley. Ice skating and the Bears activities in the area are open to the general public. Simply come to the Rosemont Entertainment District any time between 4:00PM and 8:00PM. If you received an email stating that you were selected to receive free skates, you will be asked to provide your name at the check-in tent to pick up your voucher.
How much does parking cost?
Parking in the various Rosemont Entertainment District garages is FREE with validation. Please be sure to pick up a parking validation ticket at the event. Parking garages include William Street Parking Garage, Entertainment District Parking Garage, FOC Parking Garage, Village Hall Parking Garage, Rosewood Parking Garage and DES Convention Center (East)
For additional parking and directions visit http://www.rosemont.com/thepark/parking-directions/.
How much does skate rental cost?
Skate rental on-site is $8 per person.
What size skates are available?
Sizes begin at children's size 8 and end at men's size 16.
Can I bring my own skates?
Yes, you may bring your own skates.
How can I get pictures with Staley?
Staley will be available for photos at various times and locations throughout the event. There will be signage notifying guests when photo opportunities are taking place.
What is there to do besides ice skating?
Fans will enjoy Bears-themed giveaways, games and photo opportunities during the event. There are also several entertainment options within walking distance of the ice rink including dining, shopping, bowling, movies and more.
Live Bears themed Ice sculpture competition.
Alumni autograph signing. Alumni will be announced at event.
Shop for your next favorite piece of Bears gear at an official Bears Pro Shop Trailer
Will the event take place in the case of inclement weather?
The ice rink will shut down if the weather is warm enough for the ice to start melting. This is usually when the temperature reaches 50 degrees Fahrenheit and higher. Please visit @BearsLocal or ChicagoBears.com for any last-minute event updates.
Where can I learn more about the Rosemont Entertainment District?
Please visit https://www.rosemont.com/thepark/entertainment/skating-in-the-park-2019-2020/