In honor of Black History Month, ChicagoBears.com features three African-American pioneers in franchise history.
Willie Thrower
Thrower had the perfect name to play quarterback, but that's not why it's inscribed in NFL history books.
As a member of the Bears, Thrower became the first African-American quarterback in NFL history on Oct. 18, 1953 when he replaced an ineffective George Blanda in a loss to the 49ers at Wrigley Field.
Thrower completed 3 of 8 passes for 27 yards before Blanda was reinserted and played in only one more game for the Bears in 1953 before being released. But even though Thrower's stint was short, it certainly was impactful.
Thrower was a pioneer, helping to pave a path that many others followed. Warren Moon mentioned Thrower in his Pro Football Hall of Fame acceptance speech, thanking him for providing inspiration.
Thrower was born on March 22, 1930 in New Kensington, Pa., just outside Pittsburgh. A running back at Valley High School, he switched to quarterback at Michigan State and was part of the Spartans' national championship team as a senior in 1952.
Thrower died of a heart attack on Feb. 20, 2002—17 years ago Wednesday—at the age of 71. A 2006 article in the "Valley News Dispatch" reveals how Thrower would get frustrated throughout his life with those who doubted his claim that he was the NFL's first black quarterback.
"Basically, this is not somebody who broke records, somebody who did not break a passing record or yards rushing in a game," his son, Melvin, told the newspaper at the time. "This is a person who broke a barrier—someone who broke down a color barrier.
"I think if he would have stayed in the NFL for a couple more years, he wouldn't have been as overlooked. Everyone knows the Jackie Robinson story; nobody knows the Willie Thrower story."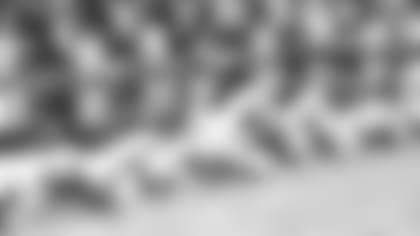 Eddie Macon
A running back and return specialist, Macon became the first African-American player in Bears history in 1952 when he appeared in 11 games after being selected in the second round of the 1952 draft out of Pacific.
Macon played two seasons with the Bears, appearing in 23 games with 13 starts before rejoining his college coach in the Canadian Football League.
During a 2011 interview with ChicagoBears.com, Macon discussed a meeting he had had with Bears founder and coach George Halas after being drafted.
"He told me what he expected of me, and that was to come in and just be a football player and be a gentleman," Macon said at the time.
Macon passed away on April 19, 2017 at the age of 90. From 2012 until his death, Macon had lived in The Commons on Thornton, a senior community in Stockton, Calif., with his wife of 71 years, Jessie.
Macon's arrival with the Bears in 1952 didn't cause much of a stir. Jackie Robinson had broken baseball's color barrier five years earlier, and several African Americans had played in the NFL from 1920-33.
In two seasons with the Bears, Macon averaged 30.5 yards on 22 kickoff returns and 5.9 yards on 24 punt returns while also rushing for 324 yards and two touchdowns on 70 carries and catching 14 passes for 49 yards and 2 TDs.
Asked in 2011 about the role he played in Bears history, Macon said: "There always has to be a pioneer. Someone has to be the first and I was the first and I feel very proud that I was the first."
George Taliaferro
The Bears became the first NFL team to draft an African-American player in 1949 when they picked Taliaferro in the 13th round out of Indiana. Therunning back never played for the Bears, however, signing instead with the Los Angeles Dons of the rival All-American Football Conference.
Taliaferro, who passed away on Oct. 8, 2018 at the age of 91, ultimately played six seasons in the NFL with the New York Yanks (1950-51), Dallas Texans (1952), Baltimore Colts (1953-54) and Philadelphia Eagles (1955).