Even after a discouraging loss to the Cardinals Sunday dropped the Bears to 0-2 for the first time since 2003, outside linebacker Jared Allen isn't panicking.
"Trust me, around here the sky is not falling," Allen told reporters at Halas Hall. "There's a lot of football left. Let's see where we're at at the end of the year.
"This city deserves to win. They want us to win. We want to win for them. We want to win for ourselves. We want positive stories written. We don't want to sit here and keep talking about why we're losing games. It's a long season. We're going to get it done."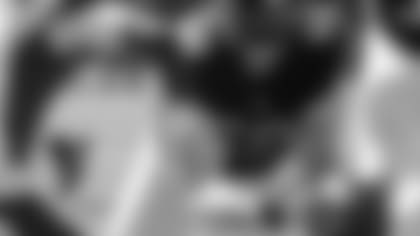 Jared Allen as he comes down with an interception against the Cardinals in Week 2.
Allen said the Bears defense knew what to expect from the Cardinals thanks to the game plan provided by coordinator Vic Fangio. But the defense failed to record a sack for the second straight game and committed pass-interference penalties of 42 and 38 yards that both led to touchdowns.
"There's a sense of frustration," Allen said. "There's a sense of urgency. Just from the standpoint that a lot of it was self-inflicted. Our scouting report for them was right on. They had a couple tendency-breakers, but for the most part you knew it was coming."
The Cardinals offense produced five touchdowns, converted 5-of-9 third-down opportunities and scored TDs on all four of its red-zone possessions in the game.
"From a physicality standpoint, it wasn't like we just got whooped," Allen said. "Penalties got us again. Third-down defense got us again. And red-zone efficiency. It doesn't matter how they get down there, when they get down there you've got to win those downs, hold them to three points."
Allen is convinced that every mistake the Bears made can be fixed.
"I think it's all correctable," he said. "It's quit doing dumb stuff and get it corrected. It's all teachable. And then it's just finding ways to make more plays. That's the bottom line."
Although the demoralizing loss to the Cardinals conjured up bad memories of last season, Allen sees no parallels between the 2014 Bears and the revamped 2015 edition of the team.
"This isn't last year," he said. "I don't live in last year. Different team, different coach, different players. You see and hear a lot of the same stuff in the NFL every week. It's the truth. The difference between 5-11 and 11-5 is [small]. I hate to break it to the fans and you guys. It's not a whole lot of changes you need to make. It's execution at this level. It's execution and guys making a play here or there to change the tide of the game.
"They didn't do anything crazy over the top. They executed. Larry [Fitzgerald] made a couple nice grabs over the middle. But other than that, a couple [pass-interference] calls put them down there and then they executed. Very rarely are you going to see pure domination.
"We're going to keep plugging away. I know everybody on the outside looks at the score. We look at the details. If you fix the details, everything else corrects itself."
When things went south in games last season, some felt that Bears players seemed resigned to their fate. This year, Allen believes the team possesses a much more positive attitude.
"I would hope there's no one in this building that has the sense of woe-is-me," he said. "I lot of crap can happen in this league. I was actually talking to somebody [Sunday] about it. Look at Dallas. They had all these high hopes. Now, they just lost Tony [Romo, to a broken collarbone].
"This league can change so fast. Games can change so fast. Seasons can change so fast. I hope no one in this building has that mentality."