Jared Allen is embracing the opportunity to move from defensive end to outside linebacker with the Bears this season, but he admits that's not something that would have happened in the past.
"Three years ago, if you had tried to make me switch my position, I would've quit," Allen said. "Honestly, because I was a knucklehead and I would've been like, 'No, I'm a right end and I'm going to go up against the left tackle. This is where I'm going to be. I'm the best. You're the best. Let's see what happens and play ball.'"
So why is Allen—the NFL's active sack leader with 134—so accepting of the change? It has everything to do with what transpired during his first season with the Bears last year. After averaging 14.5 sacks over the previous seven seasons with the Chiefs and Vikings, Allen was limited to a career-low 5.5 sacks.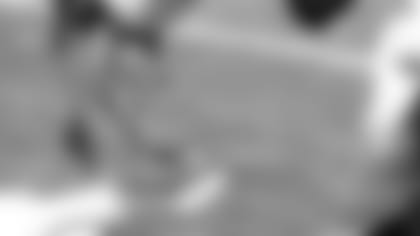 Jared Allen will play outside linebacker this year for the first time in 12 NFL seasons.
Allen spent several weeks trying to regain strength and weight after losing 15 pounds during a bout with pneumonia, which forced him to miss a game against the Packers, ending his streak of 113 consecutive starts.
"Coming off a year where I dealt with injuries and being sick and my production numbers were down, it kind of clears your mind," Allen said. "This game will humble you. However it does it, it will humble you. I got a nice little slice of humble pie last year.
"You look at a new opportunity as just that—a new opportunity. That's the way I'm approaching it. I don't feel anything is owed to me. I'm coming out here to prove that I've still got what it takes to be the best at what I do."
Allen remains confident in his ability and is extremely motivated to show that last year was an anomaly. The 6-6, 255-pounder is excited about what he can accomplish under new coach John Fox and defensive coordinator Vic Fangio.
"In my mind I still think I'm the best at what I do," Allen said. "Last year sucked. I'm not going to sugarcoat it. There's always circumstances around it, but it is what it is and I'm ready to go out and bust someone's head open, honestly. That's the kind of year that I want to have. I want to have fun.
"Last year wasn't fun. It was miserable. I didn't transition well coming over from Minnesota like I thought I was going to. There were just all these different circumstances and I let them get to me. I shouldn't have.
"I'm about as healthy as I can be right now. I just want to go out and have fun and play football and win football games and display my talents and help our team win. That's all I want to do."
Allen likes playing outside linebacker in part because it enables him to rush from a two-point stance. He also knows that it should present him with some favorable one-on-one match-ups he rarely saw at defensive end.
"Being older in my career, it's nice not having to have my hand in the dirt," Allen said. "Standing up takes a little pressure off the body. And it's different with the one-on-one blocking opportunities. Now I know why I saw [former Chargers star] Shawne Merriman [celebrating sacks] all the time after getting one-on-ones with running backs. We'll just continue to grow and continue to understand what that position is all about."
Allen hopes that growth leads to a year of redemption. After recording at least 11 sacks in seven straight seasons, the veteran pass rusher has something to prove after a disheartening 2014 campaign.
"Every year is personal for me," Allen said. "It feels fickle, right? You only get credit for what you've done lately, right? No one remembers what you've done the first 10 years of my career. Everybody talks about what happened last year, and that's the way I like it. I like every year trying to outdo myself. I put more pressure on myself than anything. So it's always personal. For me, it's always going out there to prove I've still got it."