One of the NFL's most prolific pass rushers, Jared Allen has averaged 14.5 sacks over the past seven seasons. But that doesn't mean the new Bears defensive end feels he can't improve.
"I always think I can get better," Allen said Thursday night during an appearance on the Bears All-Access radio show on WSCR-AM 670. "I always think I can be more disruptive, more productive. I haven't made every tackle of every game yet, so I can still improve."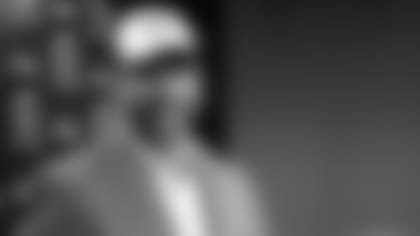 Jared Allen addresses the media at his introductory press conference Monday.
Last season with the Vikings, Allen started all 16 games for the sixth straight year, recording 11.5 sacks, 52 tackles, 13 tackles-for-loss, six pass deflections and two forced fumbles. But the five-time Pro Bowler thinks that his numbers could have been even better.
"Going back and watching film, I missed four or five sacks that were in my hands," Allen said. "That to me is unacceptable. It happens, but those are the things that I look at [in terms of] being more consistent from that standpoint. If I can get my hands up to bat more balls ... I didn't have a pick last year. That's something that was disappointing because I dropped one in the last game.
"I just look at overall areas. I'm my own worst critic. Training-wise you really want to add a little something to the first step of my get-off, really be more aggressive in that area. So I'm always nitpicking stuff here and there.
"Until I can win outright defensive player of the year or I can make every single tackle on the field, I always feel like there's a ways to improve and you've always got to improve. Anybody who sits there and tells you they never get beat is a liar. So if a guy can beat you once, you've got to work hard and make sure it doesn't happen again."
Allen also expressed excitement about joining a Bears team that boasts a high-powered offense and a defense that has been revamped in free agency after a disappointing 2013 season.   
"When an offense can score points like the Bears offense can, you really can force teams to be one dimensional," Allen said. "If you can get a couple-score lead—and we plan on being much better in the run defense—then you can just really get after people.
"So that's what we're looking forward to do, being aggressive and really improving our run defense from a year ago and getting after people. With the way this team is put together, you have a chance to win every game when you step on the field and that's all you can ask for. Now it's up to the players to go out there and play."