They say that Father Time is undefeated, but Jared Allen isn't ready to concede anything.
The new Bears defensive end, who will turn 32 on Thursday, expressed confidence during his introductory press conference Monday at Halas Hall that he can still play at a high level.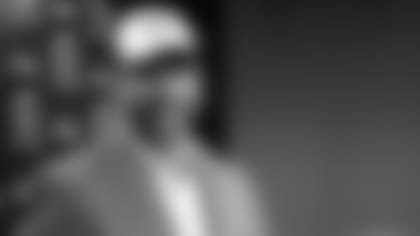 Jared Allen answers a question during his introductory press conference Monday.
The five-time Pro Bowler hasn't shown any signs of slowing down. Last season with the Vikings he recorded 11.5 sacks, 52 tackles, 13 tackles-for-loss, six pass deflections and two forced fumbles while playing in all 16 games for the sixth straight year.
Asked by a reporter how much he has left in the tank, Allen said: "To answer that question, just watch me play this year. I'm in great shape. I'm a full year now off of surgery on my shoulder. Workouts are going phenomenal. I'm excited. I want to believe in what I'm playing for and who I'm playing for, and that's why I'm here.
"I believe in the philosophy that the coaches are offering, I believe in the techniques that they're teaching and I believe in the product they're putting on the field, and that's what gets me amped to come play.
"And for me, football is simple. That mental preparation you put into it [determines] whether you're going to be successful or not, and when you love what you're doing and you firmly believe in the team and the people you're playing for, it makes it that much easier for me to go out and just have fun."
A meticulous talent evaluator, Bears general manager Phil Emery sees Allen as an athletic, lengthy defender who remains productive. The 6-6, 265-pounder has recorded at least 11 sacks in each of the past seven seasons, highlighted by 22 in 2011, half a sack shy of the NFL record.
"He knows how to use his hands [and] balance under contact as he's trying to trim the edge," Emery said. "[He has an] incredible feel for the location of the quarterback. He's a guy who can finish. Some guys can rush the passer, but can't finish consistently relative to their ability to get past the blocker. But he always knows where that quarterback is. It's a sixth sense for him.
"When he's playing off somebody, he never loses sight or the depth of the quarterback and that's why he kind of comes to the sack. He's always at the same wave or the same level as the quarterback as he's working."
Allen, who is expected to start at right end for the Bears, intends to be an every-down contributor rather than a pass rush specialist. But he also understands the need to rotate players at his position.
"If I need to rest, they'll rest me," Allen said. "I do feel if I'm the best player on the field, then I kind of work in a way where I like to break a guy down. It's a matter of time before an offensive lineman is going to make a mistake and I'm going to take advantage of it. But at the same time, I'm not naive.
"If there's a 15-play drive, absolutely get a fresh body in there. Now if we go three-and-out and the offense goes on a 10-play drive, let's go play ball. But that comes with trusting your coach and trusting the philosophies and knowing what they expect from me and what I expect from them, and those were all questions that were answered.
"I wouldn't be here if they told me, 'Hey, you're going to be a third-down rush guy.' I have a lot left in this tank. My body feels good. I feel like I can make waves, and not for me personally. I want to win a Super Bowl. Let's make that clear. And I think the Bears, with an offense and a quarterback, you always have a chance. And now you throw a good defense on that."