Contrary to the views expressed by some outside Halas Hall this week, veteran defensive end Jared Allen doesn't believe that the Bears lack leadership in their locker room.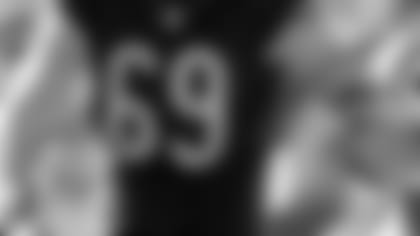 Jared Allen
"I think we have great leaders here," Allen said. "Leaders don't necessarily have to stand up at the podium and make some big speech. As a matter of fact, if someone gets up every week and has to [say], 'Coach is out, let's have a [meeting],' that's lame honestly. What's that going to do? That's rah-rah.
"Leadership comes from the guys that show up every week, go out and work during practice, be in their playbook, they know what they are doing, go out on Sunday and they give it everything they've got."
Allen hasn't delivered any rah-rah speeches, but the 11-year veteran still considers himself a leader.
"I've never been huge on needing a team with a person as an out front vocal leader," Allen said. "But I would assume people respect me for the fact that I show up and I work and I have been around this league long enough and I have had enough success in this league where if I need to talk to someone I can.
"And I think I have respect as a teammate. So I think that is what we do well with this team. So I would say we have good leadership. Maybe from the outside looking in you guys are looking for a vocal person with an 'S' on his chest to do something, but those aren't the guys typically I find people respond to."
While some have criticized Brandon Marshall for his emotional outburst in the locker room following the loss to the Dolphins, Allen had no issues with what transpired.
"Everybody expresses themselves differently," Allen said. "You should be angry after a loss. We're going to have an adverse moment, but I respect emotion; it's raw, it's real. So guys get emotional, great. I mean there is always a fine line from someone just spouting off and acting crazy, but that sure as heck didn't happen in our locker room. That was just raw, good emotion.
"I respect guys like that; I respect guys who have passion for the game. Everybody handles things differently. The bottom line is that can't linger; you have to come back and go to work. If that frustration turns into motivation, that's great. But if it turns into shutting down, then obviously that's a different avenue you have to try and avoid."