BOURBONNAIS, Ill. — Bears fans aren't the only ones watching Brandon Marshall and Earl Bennett at training camp. First-year receiver Joe Anderson is also keeping a close eye on the veteran wideouts.
"I treat myself like a sponge," Anderson said. "I stand around [watching] those guys and soak in so much because they've been in the game longer than me. I'm a younger guy with plenty of talent, but talent is not enough. I watch how they approach the game and it helps me out a lot with my game."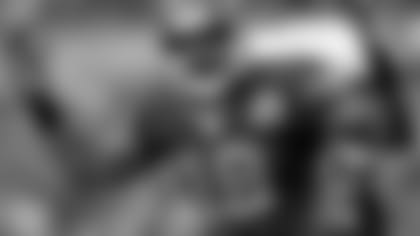 Joe Anderson celebrates after making a special teams tackle last season against the Packers.
The most valuable lesson Anderson has learned from his veteran teammates is that the mental aspect of the game is what sets players apart in the NFL.

"I'm just as talented as these guys, but it's more than that in this league and I've realized that," Anderson said. "It's kind of slowed down more just watching those guys, like last year being on the practice squad just getting as much information as possible: 'OK, how does Brandon do this, how does he do that,' and put some of those things in my tool box."

Anderson joined the Bears in 2012 as an undrafted free agent from Texas Southern. He spent the first 14 weeks of the season on the practice squad before being promoted to the active roster and playing in the final three games, primarily on special teams.

Competing for a spot on the 53-man roster in training camp, Anderson is making the most of his opportunities. With Marshall being rested Monday, the 6-1, 196-pounder capped a two-minute drill with the first-team offense by leaping high to catch a touchdown pass from Jay Cutler.

"You've got to come in and just take advantage of the opportunity," Anderson said. "We work on this in the meeting rooms and it's all about accountability and just stepping up."

Anderson is one of many players who has stood out during the first four practices in Bourbonnais.

"He's had a good camp," said coach Marc Trestman. "He's shown strong hands. He's shown the ability to get open in tight coverage. He's coming out every day to compete and he brings added value because he's a good special teams player as well."

Because reserve receivers are expected to contribute on special teams, Anderson's chances of earning a roster spot could hinge on his ability to perform in that phase of the game.

"I'm an athlete. I'm more than just a receiver," Anderson said. "I can do whatever they need me to do. If it's special teams, whatever is going to help the team win, I'm willing to do that.

"Everything is important. I wasn't a draft pick or anything like that. I'm not complacent. I'm not content. I'm not satisfied. I want more, so to get more you've got to do a little. When you do good with a little, you get a lot more. Special teams is important to me as well as receiver."