Regardless of the opponent, the Bears defense approaches every game with the same objective.
"Our No. 1 goal every week is to stop the run, make a team one-dimensional and let our pass rushers get after the quarterback," said middle linebacker Brian Urlacher.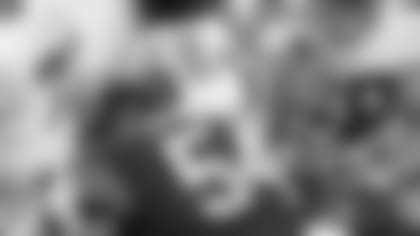 Brian Urlacher tackles running back DeMarco Murray in Monday night's win in Dallas.

The defense has executed that plan of attack exceptionally well so far this season. The unit ranks third in the NFL both against the run and in sacks, and the Bears lead the league with 14 takeaways.

Their strategy no doubt will remain the same Sunday in Jacksonville against a Jaguars offense that ranks last in the NFL in total yards but a respectable 15th in rushing.

The Jaguars are led by running back Maurice Jones-Drew, a 5-7, 208-pounder who topped the NFL in rushing last season with a franchise-record 1,606 yards and eight touchdowns on 343 carries.

"He's compact and he can take a lot of blows," said coach Lovie Smith. "He's been getting the ball an awful lot and he's been productive every year. He's on pace to have another good football season, so it's a big challenge for our defense to shut down the run early in and not let them get both [the run and pass] going."

A short but strong runner with a low center of gravity, Jones-Drew ranks seventh in the NFL in rushing this season with 352 yards and 1 TD on 72 attempts.

"He's a hard guy to take down," said linebacker Lance Briggs. "He's got great balance. He's got a thick lower half, so when you try to tackle him, try to get him down, usually a big hit won't do it. You have to wrap him up. You have to gang tackle him. You have to wrap his legs."

"Sometimes he gets lost behind the line of scrimmage," Urlacher added. "I know as a taller guy sometimes I have to stand up to see where those guys are at. He's a good running back. He's thick. He runs hard. We've got to get a lot of guys on him, run to the football and tackle him."

Not involved: Urlacher isn't a huge fan of the cover-two defense, but he isn't about to argue with the success the Bears have enjoyed while playing the scheme.

"It's not fun, but the cover-two works," Urlacher said. "I've said it every year. It's not my favorite thing, but it works. We've gotten a lot of takeaways playing it this year, and we're good at it."

The middle linebacker in the cover-two generally drops deep in pass coverage down the seam. Asked what he doesn't like about the scheme, Urlacher said: "I'm not involved. I'm being selfish. Unless they attack the middle of the field, I'm not really involved in the play.

"They throw checkdowns. I don't get to blitz or anything like that. I just kind of run through the middle and hope something happens. I'm really good at congratulating people, though, in cover-two. I'm the No. 1 high-fiver when someone makes a play. I'm leading the team in that."

Asked how many sacks he thinks he would be able to record in a standard defense, Urlacher said: "I couldn't care less. I'm not too worried about it. Our defense works and I'm happy to be in it."

Trying to improve: Quarterback Jay Cutler felt that first-year offensive coordinator Mike Tice had his best game as a play-caller in Monday night's 34-18 win over the Cowboys in Dallas.

"I'm trying to get better. I'm no different than the players," Tice said. "If I work at my trade, which is the message I've sent to the players, then I'll get better each week. If I prepare correctly, I'll get better each week.

"Am I going to make some bad calls? Yeah. Am I going to get some plays in a little later than they should get in? Yeah, but that's just the way it is. That's across the league. I'm not the only guy."

No indecision: Cutler was thrilled to have the regular NFL officials back on the field Monday night.

"It was nice," Cutler said. "There was a lot more rhythm. The tempo was upbeat. Everything was in order. They took control of the game; no indecision. We had a few scrums out there and they stepped right in and they broke it up and everything got back to normal.

"They didn't miss a beat. I don't think not doing the preseason and the first three games [bothered them]. They stepped right in and did a great job for us."