In the fourth of a five-part series featuring Bears offensive assistants, receivers coach Zach Azzanni shares his thoughts on the players he works with.*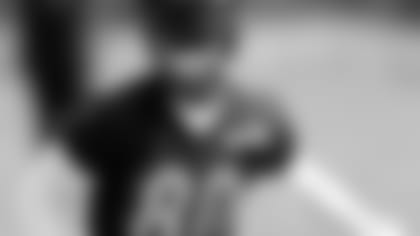 Victor Cruz joined the Bears this year after spending seven seasons with the Giants.


"The sky's the limit for Cam. He's everything you want in an NFL receiver. He's tall, he's loose, he's got great ball skills, he can run. He's smart because he played quarterback, so he gets the game a little bit better maybe than other players at that position. Maybe the layman thinks he's polished. He's still got a lot of work to do and that's what's fun. He knows it. So every day we're working on some of those little things to help him take his game to the next level and he's willing."On what Victor Cruz brings to Bears:
"Definitely veteran experience. He's been through it all. Great seasons. Super Bowl. Injury setbacks. He's seen it all, right? Big market in New York. So he's definitely a good sounding board for some of those guys. As far as the first couple days, he's still learning the offense. We're asking him to do things though that he did previously. Some of those routes he's running, that's what he did. It's too late in his career to go reinvent the route tree for him. We got him to do the things he does well."
On Kendall Wright's strengths:
"He's got crazy instincts. He has things you can't teach out there. He's just an instinctual guy. Now for me to ask him to go outside and run go routes every snap, I'd be an awful coach. But we ask him to do what he needs to do on the inside and he's really good at it. He has a great natural feel. He has been with coach [Dowell] Loggains before. So he knows what he expects. So it's a good marriage. He's doing well."
On how slot receivers Cruz and Wright are distinguishing themselves:
"Well, you've got to add [Daniel] Braverman in that mix. That's three slots right there. They're all good players battling it out right now. They all have different nuances. But they all have that slot, quick twitch and the option routes and things. We'll see. This is going to be an interesting couple weeks with that."
On Markus Wheaton being sidelined following an appendectomy:
"He was still learning the offense, and there are little nuances of it so for sure it puts him back a little bit. But he's a smart kid, he works hard. He'll be out there in walk-throughs trying to get better, so it definitely takes him back a couple weeks, but we'll catch him up quick. It gives other guys an opportunity to get more reps and make plays and that's the way you have to look at it; it's football and things happen all the time. So we push on and the next guy picks up the rifle and tries to go make the team and get more reps."
On everyone having something to prove:
"I think our whole room, including myself, have a lot to prove, and that's fun. That's the kind of culture you want to build. We're not going through the motions out there. Every day everybody's fighting for every rep. We're building a hard edge culture in that room. Everybody's not going to be in that room two or three weeks from now, whatever it is. But everyone is fighting their tail off, whether they're the one or the eight right now. Everyone's kind of got that culture like they've got something to prove and as a group we do too, and me. I'm not slowing down on these guys. I'm being me out there and we've all got a little hard edge to us and that's fun. I like that. That's football."
On rewarding a "soldier of the day:"
"I give out little army guys, those green army guys. I give out one of those a day for the soldier of the day. It doesn't have to be 18 catches. And you know what's funny? When we go into the meeting, first thing they ask is 'Coach, who got the soldier of the day?' Because they want to line them up on their desk. These guys are still kids playing this game. And we have to make it fun too. I'll let everyone else stress out about it. But we're going to have some fun in there and also teach these guys how to respect this game and how to play it with a hard edge."