Jay Cutler has a history of rebounding from his poorest games and hopes that trend continues Sunday when the Bears host the New Orleans Saints at Soldier Field.
Last weekend in Detroit, Cutler threw three interceptions in a 40-32 defeat to the Lions. On six previous occasions he tossed three or more picks with the Bears, he has compiled a 5-1 record in his next game, throwing for nine touchdowns and four interceptions.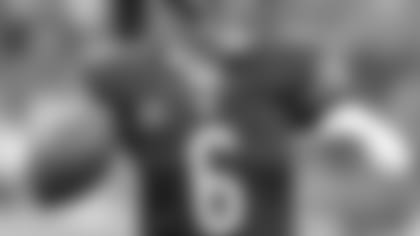 Jay Cutler has passed for 1,010 yards with eight touchdowns and six interceptions this season.
"It's going to happen," Cutler said. "What you don't want to see is three turnovers, three turnovers, three turnovers consecutive weeks like that. If you can minimize those, you're going to be in a better place obviously. Going into this week, it's just 'take care of the ball.'

"We don't need to give the New Orleans Saints a better chance of scoring. They're already good enough on offense. Our defense is going to do everything possible to slow them down. Myself and the rest of the offense, we can't give them free opportunities."

Cutler will have to traverse a fine line Sunday, given that he's determined to avoid turnovers but also wants to remain aggressive and throw downfield when possible.

"You've got to take calculated risks out there," Cutler said. "There are going to be times where we definitely want to push the ball up the field and we're going to be making some tight throws.

"You want to do that stuff more versus man-to-man whenever you've got man-to-man. Against zone defenses whenever guys are just kind of floating around on defense those are the times you want to check it down and make sure that you manage the football."

Cutler also lost a fumble against the Lions that was returned for a touchdown, and one of his interceptions was brought back to the Bears' 2, setting up another TD. After the game, he accepted full responsibility for his mistakes-which was commendable but didn't make him feel any better.

"Sometimes it's hard to walk back in that locker room and know that, 'Hey, I was responsible for four turnovers' and you put your team in that position," Cutler said. "It makes you feel bad because I thought the defense played their butts off. The offensive line did a great job.

"It just brings everything into perspective of how important my job is of taking care of the ball and making sure that I put ourselves in a position to win each week."

Cutler did just that early in the season, leading the Bears to a 3-0 start by passing for 693 yards with six touchdowns, three interceptions and a 94.2 passer rating. In the first two games, he threw fourth-quarter TD passes in comeback victories over the Bengals and Vikings.

Cutler will look to revert to that form Sunday against the Saints. He'll be assisted by Bears coach Marc Trestman, who has been working closely with pro quarterbacks for more than 20 years and knows exactly what it takes to bounce back from a sub-par performance.

"It starts with just going back to fundamentals every week in practice and making sure you feel secure in your fundamentals," Trestman said. "And then certainly it's the mental preparation of just focusing on the game plan and executing the plays and not trying to make something right when something went wrong the week before.

"You've got to have the emotional stability to come back. You've got to have amnesia. You've got to put the past behind you and you've got to go back to work and play the game in the new week like it's the first game."