The old saying that being close only counts in horseshoes and hand grenades also applies to the Bears, who were less than a minute away from capturing the NFC North title before allowing a late touchdown pass to the Packers in last Sunday's winner-take-all showdown.
As a result, Green Bay hosts the 49ers in a first-round playoff game this weekend and the Bears are left to mull what could have been after finishing 8-8 in Marc Trestman's first season as coach.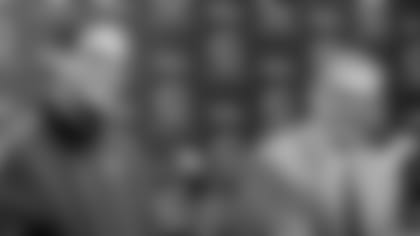 Bears coach Marc Trestman and general manager Phil Emery spoke to the media for 96 minutes Thursday at Halas Hall.
"Our goal as an organization is to be in the hunt on a consistent basis and to win championships," said general manager Phil Emery. "We have not reached that level. We were within 46 seconds this past weekend of reaching the NFC North crown, which would have been a step in our efforts to win championships. We failed in that attempt.
"As our fans, we're upset, very disappointed and we have to regroup and move forward, because that is our goal. We're not happy being an 8-8 football team."
Determined to rebound after missing the playoffs for the sixth time in seven years, the Bears will examine all areas of their team as thoroughly as a CSI detective.
"The evaluation and assessment of our team has already begun," Emery said. "We're going to continue that assessment until it's exhausted, until we're certain and sure in the steps we need to take in all aspects of our team to get back on the road to win championships."
After conducting exit interviews with players on Monday, Trestman joined Emery on Tuesday to start what promises to be a comprehensive evaluation process.
"I walked into Phil's office and we decided to begin executing our plan, to relentlessly attack this offseason and to do it with a sense of urgency, the same sense of urgency that we attacked each and every day when we started this program almost a year ago," Trestman said.
"And that would be a working plan to evaluate every aspect, as Phil said, everything we do in this organization as it relates to football, and that starts with my accountability to this organization and to this team and to what I can do better to administrate and coach this football team.
"That's what we're in the process of beginning to do; to evaluate all three aspects, the scheme, the structure, the teaching, the practice methods. And this is not unusual. This goes on in every organization, whether they've won it all or wind up being 8-8."
Although the devastating loss to the Packers still stings, the Bears know that they must base their decisions on the entire season as a whole, not just one game.
"It's going to be a mindful process, a calculated process and a methodical process," Trestman said. "You have to take the emotion out of it. This was a very disappointing loss and there is a carryover. But you can't allow that to cloud your view of what has to be done."
While the Bears offense outperformed the defense this season by arguably the widest margin in franchise history, Emery insists that all three phases will be examined extensively.
"I can't overstate that enough," he said. "We're not trying to build an offensive team or a defensive team or a special teams team. We're trying to build a team of excellence, a team that is together, that can win in all areas and help each other move forward.
"We did win eight games this year. I will guarantee you that the offense, the defense and the special teams were part of all eight of those victories. We lost eight; I will guarantee you that our offense the defense and the special teams were all part of those losses.
"As we go about our evaluation, we're going to go through all aspects of our team. It's all out on the table for us to find ways to take positive steps to improve our football team to put us back on the road to championships."