Hiring a new head coach after failing to make the playoffs for the fifth time in six seasons doesn't mean that the Bears will enter 2013 in a rebuilding mode.
"I'm looking towards a building effort to continue to improve the club," general manager Phil Emery said Tuesday, one day after he relieved coach Lovie Smith of his duties.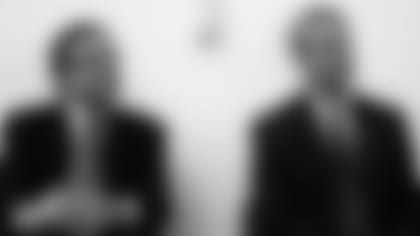 Ted Phillips and George McCaskey listen to Phil Emery address the media Tuesday at Halas Hall.
"We're going to go into every year with the sense of urgency of winning it that year. Everything we do from a personnel perspective and a synergy game with the head coach is in an effort to win championships. So will that happen? I don't have a crystal ball, but that's the intent and that's the goal and that will stay the focus and the goal."
Emery intends to evaluate the new head coach the same way he graded Smith.
"I'm going to give it the same parameters that I told you when I got here it's steady progress toward the goal of winning championships," Emery said.
"We want to win the championship now. There will always be a sense of urgency in how we interact, how we draft, how we go in the UFA market. It is about now. Now does that mean if [the new coach] wins nine games that he's going to be released? No, it doesn't.
"It depends on what kind of progress we're making toward our goals and what each and every situation was during the year just as I evaluated it this year."
The timetable: Emery intends to apply that same sense of urgency to the search process. He hopes to have a new coach in place sooner rather than later, but may have to adjust his plans if one of the candidates works for an NFL team that goes deep in the playoffs.
"It's important that we be very thorough to get the absolute right person," Emery said. "My druthers would be ideally that I could stand shoulder-to-shoulder with this individual during the [college] all-star games. The East-West is coming up (Jan. 19), the Senior Bowl is coming up (Jan. 26). All those things are important. We have to be thorough though.
"The playoffs are a consideration. There might be some candidates that we may not be able to interview during those time frames. So far we have them scheduled and we're on course. There may be candidates in the playoffs that may be unavailable to us that we may have to wait out."
Let's talk: Emery will conduct all the preliminary interviews and have final say in who becomes the next Bears coach. But chairman George H. McCaskey and team president and CEO Ted Phillips are also expected to meet with the finalists.
"After we're to the point where we feel like we have good quality candidates to select two or three finalists, we will either have them come to us or we will go to them so they will have an opportunity to talk to George and Ted and that George and Ted can interact with them and get a feel for them," Emery said. "That final decision will be mine."
Whatever it takes: Phillips said Tuesday that money won't be a factor in pursuing the candidate the Bears deem the most qualified for the position.
"We've talked about what we want to do in terms of bringing in a head coach and the bottom line is we want the right fit," Phillips said. "We want the synergies with Phil. We want the synergies with the players, with the whole organization, a sense of excellence.
"Once Phil brings in those final candidates-I believe he'll bring in great candidates who will be a good fit-then we're going to do whatever it takes to hire the right guy."