Even though the Bears offense struggled mightily for three-plus quarters before awakening last Sunday against the Panthers, no one at Halas Hall is hitting the panic button.
"We don't have to get exponentially better," said quarterback Jay Cutler. "We just have to take it one step at a time each week, each player get a little bit better and by the end of the year we will be where we want to be."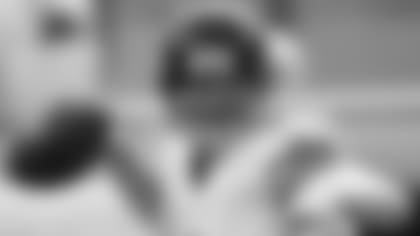 Jay Cutler leads the NFL with a 132.0 fourth-quarter passer rating.
After scoring five touchdowns in a Week 1 win over the Colts, the Bears offense has produced just 10 TDs in six games, including only one touchdown in three of those contests.

Despite a lack of consistency, the offense has performed well in spurts. The latest example came last Sunday when the Bears scored a touchdown and field goal on their final two possessions to help turn a 12-point deficit into a 23-22 victory.

"What I do know is that we're close," said receiver Brandon Marshall. "We're close to being a really explosive group. We're close to being really effective in each phase of the game on offense and I know we're working hard to get where we want to be.

"Will we be a No. 1 offense? I don't know about that. This is our first year for all of us being together, but we have the ability to be a really great explosive offense, and I think that will come sooner than later."

There was more imploding than exploding in the first half against the Panthers as the Bears mustered only 49 yards while committing three turnovers and permitting six sacks.

"There wouldn't be a whole heck of a lot of clinic tape coming of that performance in the first half last week," said offensive coordinator Mike Tice. "I've always felt in this league that assignment, technique and execution is what's going to win games for you and obviously not turning the football over, so we have to do a lot better than that.

"Fortunately Jay and the rest of the guys stepped it up in the fourth quarter and made enough plays for us to win the game. It's not a game that we're going to put out there when we put our career highlight tape together, but we did get out with a victory and now we have a Tennessee team that's playing good football right now."

Preparing to visit the Titans Sunday, the Bears hope to get off to a better start not only in the game but on each set of downs. They rank last in the NFL on first down, averaging 4.19 yards per play.

"We see more second-and-10s probably than anyone in the league, second-and-eight-plus at least," Cutler said. "It's tough. We've talked about it, getting off to a better start on first down whether it's run or pass because third-and-six, seven, eight is hard.

"Second-and-10 is hard to call a game too. If you call a run and don't get five-plus, you're sitting in third-and-long, and if you pass it and are incomplete then it's third-and-10. It's tough to do it like that. We've found ways to manage it, but facing some better teams down the stretch, we're going to have to get better at it."

The offense must also do a better job of taking advantage of the opportunities created by the Bears defense and special teams. During the current five-game winning streak, the offense has converted only one of the 10 takeaways the defense didn't return for a score into a touchdown.

Against the Panthers, the offense failed to score any points on drives that started at the Chicago 43, 43 and 41 following short Carolina kickoffs.

While Cutler is confident that the unit will make strides, only time will tell.

"We could be playing this type of ball in December, I don't know," Cutler said. "I can't tell the future. All I know is offensively we're going to try to get better. I'm going to try to get better each week and each day and I know the guys that we have in that room are going to try to get better.

"I believe in our coaches and the system we have. They are going to do the best possible job they can to put us in situations to be successful."