Bears coach Marc Trestman cut Monday's practice a few minutes short following an altercation between tight end Martellus Bennett and rookie cornerback Kyle Fuller, the team's first-round draft pick.
Bennett caught a pass while running across the middle just shy of the goal line. Fuller stepped up and appeared to attempt to force a fumble but instead hooked Bennett by his shoulder pad and spun him to the ground.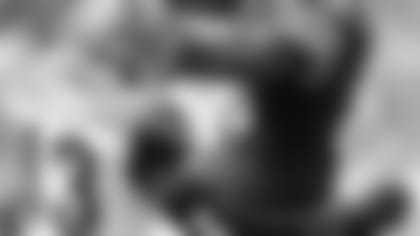 Martellus Bennett
An incensed Bennett jumped to his feet, grabbed the rookie and slammed him down. Several teammates on both sides of the ball intervened and order was quickly restored. But Trestman opted to end practice at that point with a walkthrough period.
"I felt it was time to stop," Trestman said. "There were a lot of people involved that care a lot about this football team. I felt we got enough done today and it was the best [for] the team to move forward, finish with the walkthroughs and move on to our meetings this afternoon."
Trestman told reporters that he discussed the altercation with his players when they huddled at midfield Monday as they do after every practice at training camp and Halas Hall.
"Things happen in practice," said the Bears coach. "You guys are around. You see that it doesn't happen very often, and when it does, we talked about it in there. We really are a family. Family's fight. Families have moments like that. We've got to continue to talk through it.
"There are disciplinary issues, certainly, in terms of hurting the football team. This would resonate on a Sunday afternoon or Monday night or a Sunday night. It hurts your football team dramatically in all three phases, and our players understand that.
"When you see things like this happen, you know that's not who they really are. The people involved are all great people. They love this football team. And we all have families. We understand that people get to that place sometimes where we've got to let them cool down, and that's what we did today."
Asked if further discipline was warranted,
Trestman said: "I don't think that's something that I would address here. These are brief moments in a lot of really good moments of competition and working together. We can make a lot more out of this than we want to, and we're not going to do that here. We address it and we move on. That's what we're going to do here, and we'll make a decision about what's best for our football team in any situation that relates to discipline. That will be inherent in the team and in the locker room."
Bennett shook hands with Fuller after the incident and later discussed it with reporters outside the dining hall.
Asked what he said to Fuller, Bennett said: "I just told him, 'Keep working, keep playing. If that's the way you play, that's the way you play.' But at the end of the day, this is what it's about—he plays hard, I play hard and everybody should be trying to play the way we're playing out there."
Fuller said he was trying to knock the ball out of Bennett's hands, calling it "just a football play. Stuff like that happens." Moving forward, it doesn't appear that Fuller will hold a grudge, saying: [With] family, you get in fights like that. But at the end of the day, you're all good."