As you'd expect, Bears general manager Ryan Pace didn't divulge any secrets during his annual pre-draft press conference Tuesday at Halas Hall.
"This time of year, I think it's OK to be a little boring in these moments," Pace said with a smile. "We can have more thorough discussions after the draft."
One thing Pace did reveal is that the Bears have compiled a list of eight players they would be comfortable selecting with the eighth pick in the draft.
"We have eight names right now of players that we like," Pace said. "There are a lot of variables that are going to take place in front of us that are going to dictate who's going to be there, and we're excited if any one of those eight names are there."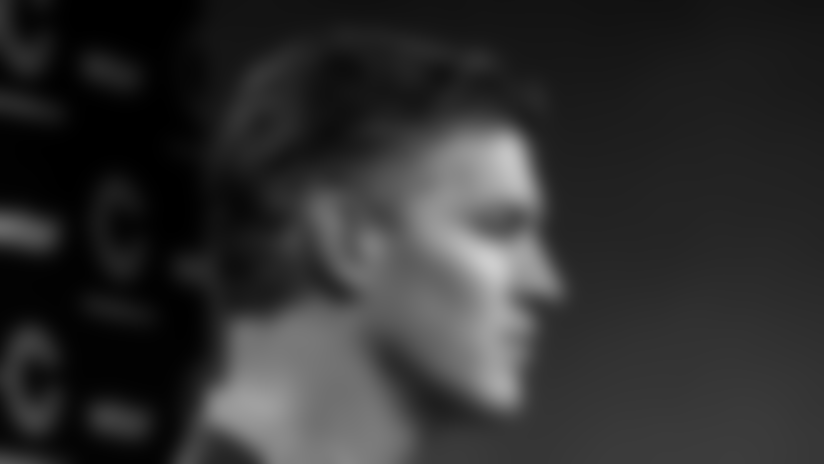 General manager Ryan Pace speaking to the media on Tuesday.


While Pace obviously didn't name names, he did acknowledge that none of the eight players on his list is a quarterback. That, of course, is not a surprise given that the Bears chose quarterback Mitchell Trubisky with the second pick in last year's draft.
"I think the fact it's a talented quarterback class is going to help us this year with where we're picking," Pace said. "But to sit here and think we're going to select a quarterback at that point would be inaccurate."
Many NFL analysts are predicting that four quarterbacks—Josh Allen, Sam Darnold, Josh Rosen and Baker Mayfield—will be among the top 10 picks of the draft. An early run on quarterbacks would benefit the Bears by pushing elite prospects at other positions down to them at No. 8.
Pace has actually traded up in the first round the past two years, jumping from No. 11 to 9 to pick outside linebacker Leonard Floyd in 2016 and moving from No. 3 to 2 to take Trubisky last year. Before Pace was hired in 2015, the last time the Bears had traded up in the first round was 1996.
"When we identify a guy that we like and there's unified vision in the building of a player that we want, I don't think we're ever afraid to go up and get that guy," Pace said. "I'd rather do that and assure we get that guy than he goes right before you and everybody walks out of the draft room a little bit disappointed. We've got to be aggressive and get a player we're all excited about.
"Those scenarios are all discussed. They're all discussed right now: 'Here's these eight names, but among these eight names is there anybody that if they fell a little bit closer to us that we'd be willing to go up and get? Is there any scenario where we'd want to go back, and if we do how far would we go back because we better be sure it's an impact player because we know we're going to get one if we stay at eight.'"
On the flipside, the Bears have traded down in the second round each of the last two years before selecting offensive lineman Cody Whitehair in 2016 and tight end Adam Shaheen in 2017.
"I think we've shown in the last couple years that you can maneuver in the draft to acquire more picks if necessary, and there will be opportunities to do that [this year] if it fits," Pace said. "There might be opportunities to go up where we lose some picks. Every scenario's on the table. Those are all discussions that we're going through right now."
Pace has enjoyed evaluating draft prospects with first-year head coach Matt Nagy.
"Matt's done an unbelievable job in this draft preparation of kind of painting the picture of how players fit not just on offense but on defense too," Pace said. "Here's the vision, here's how I see this fit and us as evaluators, it just gives you confidence to pull the trigger because there's a vision for the player and there's a way better chance of success when there's that unified vision."
The draft is such a crapshoot because it's impossible to know for sure how each pick will develop.
"Some of these players are 20 years old," Pace said. "You see a lot of physical traits and talent, and you're projecting how much better they can get. That's part of the art of doing this. A lot of that goes into the work by all of us—by our scouts and our coaches—and also knowing the football makeup they have.
"We talk about the desire to get better, their passion and love for the game. If they have all the physical traits but they don't have that desire, then it might not work. But if they do have that desire, they do have that passion, those are the kinds of players we want because we have more faith they'll improve."