General manager Phil Emery announced Tuesday that the Bears have fined and suspended tight end Martellus Bennett an undetermined length of time for conduct detrimental to the team.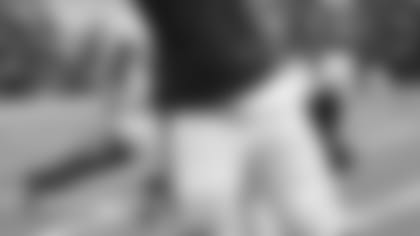 Martellus Bennett
Bennett was involved in an altercation with rookie cornerback Kyle Fuller late in Monday's practice. Bennett caught a pass just shy of the goal line. Fuller appeared to attempt to force a fumble but instead hooked Bennett by his shoulder pad and spun him to the ground.
An incensed Bennett jumped to his feet, grabbed the rookie and slammed him down. Several teammates on both sides of the ball intervened and order was quickly restored. But coach Marc Trestman opted to end practice at that point with a walkthrough period.
"Last night we made a decision to fine and suspend Martellus Bennett for an undetermined length of time," Emery told reporters. "This is a process we're working with Martellus. We are in contact with him. Our goal is to have Martellus back as soon as possible. He's a very loved and respected teammate. We want him back, but it's a process we have to work through."
Bennett will remain on the active roster, but he's away from the Bears and will not participate in any team activities. Asked how the decision to discipline Bennett was reached, Emery said: "As we always do, we work through as a staff collectively and hear everybody out and we reached a conclusion that this is the best course of action."
Trestman addressed Bennett's situation after Tuesday's practice.
"I want you to know that we're in communication with Marty," the Bears coach told reporters. "I'll be talking with him today. We've got a plan and a process in place, and as I told the team today, we love him. He works hard. He loves football. He's a good father and we want to get him back as soon as we can, and we'll go through this process and when the time is right he'll be back."
Asked how the length of Bennett's suspension will be determined, Trestman said: "I can't answer that other than to say it's going to be one day at a time. I'm going to talk to Marty today, see where he's at and continue to talk each and every day and make sure we have an open line of communication, which we have."
Quarterback Jay Cutler was asked whether he felt the Bears were trying to send a message to players by disciplining Bennett.
"I don't know," Cutler said. "That's between Marc and Phil and Marty and some other people that were involved. All we know is we try to protect each other out here and we need everybody. We've got to do our best in the heat of battle."
Cutler revealed that several Bears teammates—himself included—have reached out to Bennett since Monday's scuffle at practice.
"We care about him and we all love the guy," Cutler said. "He works extremely hard out here. Going forward, we just hope that we get him back sooner than later."
Offensive coordinator Aaron Kromer expressed a similar sentiment.
"We're really looking forward to Marty's return," Kromer said. "Everybody on the team wants Marty back. We want the right Marty back. He had 65 catches last year, and he's a good person and a good father, and we want that guy on the field."