The Bears teamed up with the NFL to host a free football safety clinic for nearly 200 moms of youth players Tuesday night in the Walter Payton Center.
The event, held in conjunction with USA Football's "Heads Up Football" program, was headlined by NFL Commissioner Roger Goodell, Bears Chairman George H. McCaskey and Dr. Mehmet Oz.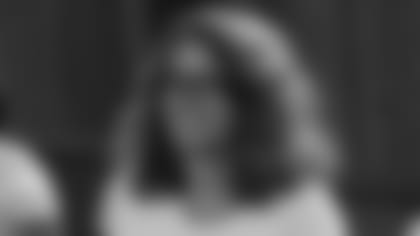 Moms of youth players were taught proper tackling techniques at Tuesday's clinic.
"We all want our kids playing sports and we want to make sure that they are doing it safely, so we're talking about what we're doing with Heads Up Football and what we're doing to keep kids active," said Commissioner Goodell. "The moms are usually the decision-makers. They're really the ones that are looking after the kids and have such a big influence."
The clinic, which was the first of its kind hosted by an NFL team, included education on concussion awareness, heat and hydration, and proper equipment fitting. The moms were also divided into groups of 11 and taught how to tackle.
"This is the future of the game and a lot of times it comes down to moms whether the kid, boy or girl, is going to play youth sports, not just football," McCaskey said. "So we want to make sure that they're properly informed, that they don't rely on myths or misinformation and that they ask the critical questions so that they can make an informed decision."
Diane Long, wife of Pro Football Hall of Famer Howie Long and mother of three sons, including NFL players Kyle Long (Bears) and Chris Long (Rams), participated in a panel discussion.
She was joined by Chris Golic, wife of former NFL defensive lineman Mike Golic of ESPN's "Mike and Mike" and mother of two sons who played football at Notre Dame; as well as Brittney Payton, daughter of the late Bears Hall of Fame legend Walter Payton.
"This is so in my wheelhouse," Diane said. "I'm not a doctor. I'm not an expert on a lot of things. But I'm a mom and I have been for a number of years. I've had three athletes come up the through the ranks playing football, so I can speak a little bit about it and about the trepidation that goes along with being a mother and just the whole process of trying to work it out and come to a family decision as to what sport is best for your kid to play and why. So I certainly can empathize with parents agonizing over the decision and I'm happy to share my experience."
Bears owner Virginia McCaskey attended the event, as did former players Anthony Adams, Desmond Clark, Gary Fencik, Mike Richardson and James "Big Cat" Williams. Connie Payton, Walter's wife, and their son, Jarrett, were on hand as well.
"I think what [the moms in attendance] are trying to get is a better idea of what they should be looking out for," Fencik said. "As a parent of a daughter who's playing soccer in college and of a son who got a bad concussion playing basketball, I think that each parent has to become aware of their responsibility, not just the coach's or the trainer's in getting the signs that are indicating that you have someone who has been impaired."
Bridget Diversey, one of the moms who attended the clinic, learned some valuable information.
"I have four boys that all play tackle football," she said. "I've dealt with head injuries and I didn't know what to do and I didn't know if it was safe for them to play again, so I wanted to learn. You need to know when they're not OK and when they need to rest and get better."
Diversey appreciated the involvement of Commissioner Goodell and Dr. Oz.
"I was star struck," she said. "But I think it's important that they take an interest in this. You hear about the professional people getting help, but the little kids are the ones that need it because we don't know. We're parents. We want our kids to have fun, but we want to keep them safe."