Joe DeCamillis already knew the magnitude of the challenge he's facing this week even before he saw Devin Hester's picture splashed across the front page of a Chicago newspaper's sports section.
"How many times do you see a returner on the front page of the paper?" the Bears special teams coordinator said Wednesday in advance of Sunday's game against Hester and the Atlanta Falcons.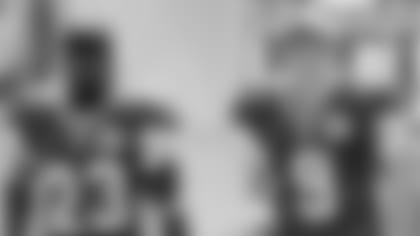 Devin Hester and Robbie Gould represented the Bears in the Pro Bowl after the 2006 season.
"I think everybody knows how great a player he is. I don't think there's any question about that. I think the biggest thing is we just have to have a good plan going in for him."

Hester signed with the Falcons this year after spending his first eight NFL seasons with the Bears. He rewrote the NFL record book in Chicago, becoming the league's all-time leader with 18 kick return touchdowns and 13 punt return TDs. And that doesn't even count his magical 92-yard touchdown return on the opening kickoff of Super Bowl XLI in an eventual loss to the Colts.

Hester set another NFL record earlier this season with the Falcons with the 20th TD return of his career, breaking a tie with Hall of Famer Deion Sanders.

"He's the best returner to ever play," said kicker Robbie Gould. "He doesn't just catch the ball and run real fast. He sets up returns really well. He sees the return really well. If he sees green space, he's going to go find it and he's got the speed to climb on any coverage team."

This season Hester ranks fourth in the NFL in punt returns with a 14.4-yard average and one touchdown and eighth in kickoff returns with a 24.2-yard average.

DeCamillis knows how dangerous Hester is, but the coach also realizes that keeping the ball out of the electrifying returner's hands isn't always possible.

"A lot of people say you can't punt it to him," DeCamillis said. "Well, it's a lot easier [said than done]. There are a lot of things that go into that. Otherwise, everybody would do it. I'm sure at Soldier Field you probably saw it a lot where people hit 20-yard punts trying to do that.

"We just started today with the preparation. We'll continue as the week goes on and hopefully we'll have a good plan for him. I have a world of respect for him. I think he's the best ever. I enjoyed my time with him [last season]. I wish it would have been longer."

Gould understands that it's also difficult to limit Hester's opportunities on kickoff returns.

"It's not about shying away from Devin," said Gould, who has recorded 11 touchbacks on 25 kickoffs this season. "We can't hit every ball out of the back of the end zone. It's honestly just not possible."

Gould is looking forward to the challenge Sunday at the Georgia Dome.

"You talk about having opportunities to play against a great player, you've got to step up and play great," he said. "I'm excited about it. It's an exciting opportunity for me; it's an exciting opportunity for him. I know his tendencies and he knows mine."

Hester will also pose a challenge for the Bears defense. As a complementary weapon on offense, he has caught 14 passes for 212 yards and one touchdown and also scored on a 20-yard reverse.

"He's very dangerous," said linebacker Lance Briggs. "We've all seen years of Devin. He's a special player and we've got to wrap him up. There are a lot of plays where Devin can create, but some of those same plays he can also hurt himself and lose a lot of yards, too. But when you watch tape, you've seen him when he makes his moves and cuts it's always up field right now, so he's been a great addition to their team."

Hester initially expressed disappointment about leaving the Bears and figures to be ultra-motivated to face them, something that one of his longtime teammates understands.

"He should be stoked," Gould said. "He should be pumped. Anytime you play against a team that you played for before you want to give it a little extra, and believe me, Devin's going to do that. There's no doubt about it. So we've got to be ready for him."