The Bears concluded their seven-week Rookie Transition Program Wednesday at Halas Hall with a special event in the George "Mugs" Halas Auditorium.
It began with team owner Virginia McCaskey addressing the rookies and ended with six former Bears players discussing their experiences about life in and after the NFL.
The rookies showed their appreciation to Mrs. McCaskey—the daughter of Bears founder and NFL pioneer George Halas—by presenting her with a bouquet of flowers.
"It was awesome," said receiver Daniel Braverman, a seventh-round draft pick from Western Michigan. "She's a walking book of history. You can learn so much from her, and the things she does for this organization are truly inspirational."
"It was a great experience," added outside linebacker Leonard Floyd, the ninth overall pick in the draft. "I was looking forward to meeting her and I'm glad she came down to talk to us today and give us some words of inspiration. She's a great person, and I can't wait to play for this organization."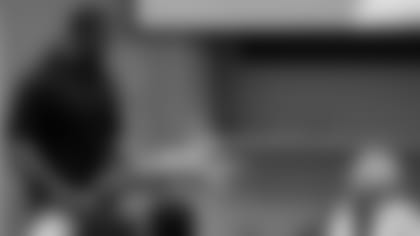 Third-round draft pick Jonathan Bullard presents flowers to Bears owner Virginia McCaskey.


The history lesson that Mrs. McCaskey provided was not lost on the young players.
"It definitely makes me more excited because there's so much tradition in this organization," said fifth-round pick Jordan Howard, a running back from Indiana. "It's basically the birthplace of the NFL because the NFL started with the Chicago Bears. There wouldn't be an NFL without the Bears."
"I was excited just knowing the history," Braverman said. "But then actually seeing her in person and the stories that she was able to give us really gave us great insight. It's such a motivational factor knowing you have someone like that in your organization."
The former Bears players who spoke with the rookies were Anthony Adams, Jerry Azumah, Patrick Mannelly, Tom Thayer, Tom Waddle and James "Big Cat" Williams.
The six combined to play 54 seasons with the Bears, with each winning at least one division championship. They advised the rookies to value and make the most of their opportunity, build their brand, plan for life after football and learn how to say no to friends and family.
"[Their message] definitely hits home because they've been through this and they know what they're talking about," Howard said. "So you definitely have to listen to them because they have a lot of valuable advice they can give you."
"Whenever you can talk to someone who's been in your shoes and knows how you think and knows how you feel, that definitely speaks to you a lot more," Braverman said.
The Bears alumni were invited to speak to the rookies by Jerry Butler, the team's director of player engagement who coordinates the Rookie Transition Program.
"They gave a little bit of how they transitioned from college into the pros and some of the mistakes that they made and if they had to do it all over again some of the decisions that they would do differently," Butler said. "They were willing to share a lot of those experiences, so there was a wealth of knowledge in this room today."
The Rookie Transition Program began May 9 and included seminars about life in the NFL, goal-setting, social media, nutrition, working with reporters, banking and real estate, investing, NFL rule changes, player health and safety, security and more. The rookies also visited a children's hospital and attended a Chicago Cubs game.
"We had a lot of great speakers come and talk to us and I learned a lot in each session," Braverman said.
The Bears have been conducting a rookie transition program in some form since 1999.
"They've had a ton of classes with me," Butler said. "My goal really was to create a team within a team basically and for them to get to know each other on a very deep level to where they can grow, and I think we did."