Determined to sign free agent Jared Allen last week at the NFL's owners meetings, Bears general manager Phil Emery was as secretive as a CIA operative on a covert mission.
Despite being surrounded by NFL general managers, agents and reporters at an Orlando hotel, Emery was able to agree to terms with the star defensive end without the news leaking.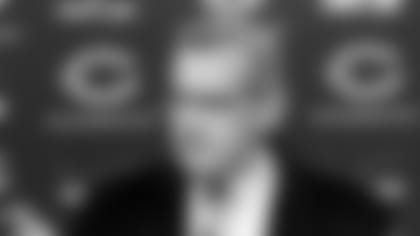 Bears general manager Phil Emery speaks to the media Monday at Halas Hall.
When the Bears announced the move early last Wednesday morning, it came as a complete surprise to even the most well-connected NFL insiders. The four-year deal was reached after negotiations between Bears contract guru Cliff Stein and Ken Harris, Allen's agent.
"It was a little bit right out of a movie," Emery said. "It was very quiet. Ken Harris came to the hotel at the owners meeting. We knew that to have it remain silent we couldn't have anybody see us meet or shake hands, so we met away from the hotel.
"But Ken had to come meet us and we were standing out facing the parking lot and [ESPN's] John Clayton walked up to Cliff Stein and shook his hand. Fortunately, John's back was to Ken walking up to say hi to me. I grabbed Ken. I pulled him around and put him behind a post, and then John walked off. So John was surprised along with everybody else because no one saw Ken."
Emery is convinced that the secrecy of the negotiations helped the Bears land Allen, a five-time Pro Bowler during 10 seasons with the Chiefs (2004-07) and Vikings (2008-13).
"It does make a difference on any contract situation because you remove the pressure of other situations," Emery said. "So the fact that we were able to do this quietly removed the counter [offers] per se. Jared felt that we were the right fit, and we were going to continue through without it getting out in the papers and allowing others to advance in terms of countering during the period that we were trying to come to an agreement."
Emery abides by a policy never to discuss negotiations in public.
"I'm just a real firm believer in privacy in contract situations," he said. "I think all of us are that way. I don't think anybody regardless of their area of work or expertise would want their contract details discussed in a public way. It puts undue pressure on the situation."
Allen employed a similar approach, not divulging any details about his hunt for a new team. Most NFL observers expected him to sign with the Seahawks after he visited the defending Super Bowl champions twice, but the 6-6, 265-pounder ultimately opted to sign with the Bears.
"Through this whole process I've told everybody I'm going to be meticulous about it," Allen said. "I wanted to end up in the right situation. I was going to make sure it was a good situation for my family, for myself, for my career. I wasn't going to go out and make a rash decision. I spent a lot of time in prayer and a lot of time talking with people around me to make sure the right fit happened."
Allen learned that the deal was done via a phone call last Wednesday at 5 a.m.
"I'm a firm believer that things happen for a reason, and this deal came together at the last minute," Allen said. "It was super cool how it came together because nobody knew what was happening. Heck, I didn't even know half the time what was happening. It came together so fast and all the pieces just fell into line. I just knew it was the right fit.
"My agent tells me, 'God gave us eyes on the front of our head to look forward, not to look back.' So when everything lined up, there was no doubt Chicago was where I was supposed to be."