In his role as Bears defensive coordinator, few things are more important to Rod Marinelli than generating a consistent pass rush. The veteran coach focuses on that aspect of the game in every practice, meeting and film session, and has even dubbed his linemen "rush men."
"Every year for us, especially with coach Marinelli and the way he wants this defense to operate, pass rush is a key component of that," said lineman Israel Idonije. "We're looking to play at a high level up front, and there's a lot required from the four guys who are out there on the field."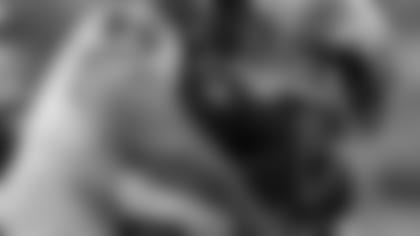 Bears defensive end Julius Peppers has recorded 100 sacks in 10 NFL seasons.
In nickel situations, the Bears move Idonije inside from end to tackle alongside Henry Melton and insert first-round draft pick Shea McClellin at end opposite Pro Bowler Julius Peppers. They also count on tackles Matt Toeaina and Amobi Okoye to pressure the passer when they're in the game.

"We went out and drafted a first-round draft pick to improve our pass rush. That's what we think of it," said coach Lovie Smith. "In order for us to have success on defense it starts up front with our guys, and we think we'll be able to rush the passer well."

The first test comes Sunday when the Bears open the season by hosting the Indianapolis Colts and rookie quarterback Andrew Luck, the No. 1 overall pick in the draft. While Luck will be starting his first NFL game, the Bears don't seem like they're going to try to trick the young quarterback.

"I don't know if our defense is really one that's based on confusion and misdirection," Idonije said. "You know what we're going to do. We're about assignment, effort and running to the football, and just being physical. That's what this defense is built on.

"I don't think we're looking to confuse or give any type of misdirection. We're looking to go and play just hard one-on-one, helmet-on-helmet football. We're going out to play our style of football, and that's it. It's the bottom line. And I'm sure he's going to come ready to play."

Interestingly, Luck is set to become the first starting quarterback to make his NFL debut against the Bears in a non-strike game since at least 1970.

"It's really more about what we do," said linebacker Lance Briggs. "He's a good quarterback. He's smart. Obviously that's why they drafted him so high. We have to get a lot of pressure on him, make him move his feet and get him to throw the ball a little early."

Sliding Idonije inside to tackle in nickel situations enables the Bears to put their four best pass rushers on the field.

"For me, it's whatever is asked of me," Idonije said. "I'm fortunate that I can do those things. It's not like I'm just going in cold. I've practiced all training camp in that system just going inside on nickel downs. We have some other guys that are going to get in there and just really move it around and not let their line get comfortable with the blocking schemes and what they're doing. So I think it will work well."

The Bears have been pleased with how McClellin has progressed since he arrived as the 19th pick in the draft.

"He's definitely a talented kid [with] tons of ability and just natural quickness and natural ability," Idonije said. "He's just going to take it one step at a time and grow as he gets more comfortable with what's going on in the game. But his job is to just do his assignment when he gets in the game, and if he does that he'll do well and the defense will do well."