In their first four home games this season, the Bears are facing quarterbacks who were selected with the top overall pick in the last four NFL drafts.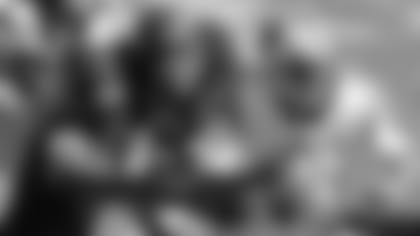 Julius Peppers and Brian Urlacher look to limit mistakes against Cam Newton and the Panthers on Sunday.
After defeating the Colts' Andrew Luck (2012), the Rams' Sam Bradford (2010) and the Lions' Matthew Stafford (2009) at Soldier Field, they'll seek a clean sweep Sunday against the Panthers' Cam Newton (2011).
Newton has not played as well this season as he did last year when he was named NFL offensive rookie of the year and voted to the Pro Bowl after setting league records for yards passing by a rookie (4,051) and touchdown runs by a quarterback (14).
This year Newton has completed 58.4 percent of his passes for 1,387 yards with five touchdowns, six interceptions and a 79.3 passer rating. Statistically, he's similar to Jay Cutler, who has connected on 56.7 of his passes for 1,359 yards with eight TDs, seven interceptions and a 78.3 rating.
While Newton hasn't produced at the same level in 2012, the Bears know that he's capable of performing like he did last year at Soldier Field. In a 34-29 loss, he passed for 374 yards and one touchdown and rushed for 35 yards and two TDs without being sacked.
"He's still a good football player," said middle linebacker Brian Urlacher. "They haven't got going on offense yet. We watched last year's game against us quite a bit, and they gashed us. They had [543] yards of offense. We're going off that. We're not going off what they've done this year. We're going off what they did last year and what we need to do to stop them."
Urlacher and his teammates seemingly have been stopping everyone they've faced. The defense remains No. 1 in the Aikman Ratings, which factors in seven key statistical categories. The Bears lead the NFL in points allowed per game (13.0), takeaways (21) and sacks per game (3.5).
"We know what we're doing," Urlacher said. "We haven't done a lot of stuff. We've run a lot of cover-one, cover-two and blitzed when we wanted to.
"We're doing things the right way. We're not making mistakes. We're letting [opponents] make all the mistakes. We go for the football, but we haven't made a lot of mistakes ourselves. And if we do make one, we rally to the football and it overcomes those mistakes."
The Bears have become the first team in NFL history to return five interceptions for touchdowns in the first five games of a season, and they've allowed only three TDs during their four-game winning streak.
"We're doing the ordinary things better than everyone else," said cornerback Charles Tillman, "like running to the ball, taking advantage of the opportunities when they are given to you, making sure you catch all the balls thrown your way, just making the best of all the opportunities."
The defense's success has been a group effort, with the line generating a consistent pass rush, the linebackers making big plays and the secondary producing key takeaways.
"The biggest thing we've been doing so far is playing as a team," said defensive end Corey Wootton, "staying to the fundamentals, really being able to get after the passer, and then the linebackers and the secondary have been able to cover well and make some plays on the ball.
"I definitely think there's a different sense of swagger about our defense. We just try to go out every week and really display our dominance, really try to get after it, get after the quarterback and force pressure. The secondary has been doing a great job as well and so are the linebackers."
While several young players have emerged as contributors, seasoned veterans such as Urlacher, Tillman, Lance Briggs and Julius Peppers have continued to perform at a Pro Bowl level.
"The longer you play the better you're going to get," Urlacher said. "The more you see plays and the more you're in a system, you're going to get better and know what's going on. It always helps the longer you play the more you see things and this is our ninth year in the system now, so we should all be pretty smart and know what to do."