Traditionally known for their ferocious defense, the Bears were uncharacteristically weak on that side of the ball in 2013, allowing the most points (478) and yards (6,313) in franchise history.
As they prepare for what figures to be a critical offseason, the Bears are determined to return to their roots as the Monsters of the Midway and put the bite back in their defense.
"We want to play the game with a defensive mentality in all phases," said coach Marc Trestman. "Chicago Bears football is physical, hard-hitting and relentless. It's an important part of football that our fan base appreciates."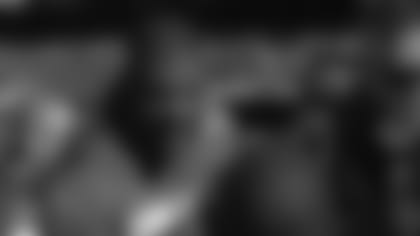 Coordinator Mel Tucker is confident that the Bears defense will improve.
The first step the Bears took to infuse their defense with more of that type of attitude was hiring defensive line coach Paul Pasqualoni and linebackers coach Reggie Herring.
"Paul and Reggie are high-character, team-oriented guys who have a tremendous amount of experience," said defensive coordinator Mel Tucker. "They are old school, hard-nosed, no-nonsense coaches who believe in being physical and stopping the run first."
Pasqualoni is a long-time college head coach who has six years of NFL experience, having served as defensive coordinator for the Dolphins and Cowboys. Herring has 25 years of experience as a college assistant and spent the last six seasons as linebackers coach with the Cowboys and Texans.
"They are both veteran coaches who are very experienced in a number of schemes," said general manager Phil Emery. "They had versatility in terms of how they thought and how they could coach. Both of them also have very demanding styles; they're more than willing to teach young players and also more than willing to hold veteran players accountable."
Before Pasqualoni and Herring were hired, Emery and Trestman jointly decided after a thorough evaluation that Tucker remained the right man to run the Bears defense.
"We went through an extensive process and what came to the forefront was that Mel possesses the necessary skills, personality subset, character, patience and passion to be that guy," Emery said.
"Once we decided that Mel was that person, it was about how do we support Mel best, and really it was making sure we had as many experienced veteran coaches that displayed the personal toughness, demanding style and accountability that we do on offense. That's why Paul Pasqualoni and Reggie Herring were very important hires."
With their coaching staff in place, the Bears will now look to upgrade their roster via free agency and the draft. On defense, they're looking for players who can put the ball in the end zone. Since 2005, the Bears are 26-2 when scoring a defensive touchdown.
"Right now our priority is adding playmakers on defense," Emery said. "We need to enhance our defense's ability to make game-determining plays. The No. 1 goal of our defense will always be to score points because when your defense scores your chances of winning are astronomically high compared to when they don't."
In terms of the scheme, the Bears will remain a 4-3 base team. But having coaches with experience in a variety of different systems will give them the versatility to take advantage of what their players do best.  
"It's a matter of being able to utilize the people that we have and be ready to do whatever it's going to take with a system that's flexible enough to do it," Trestman said. "It's making sure we have a scheme that can utilize our players and bring the best out of them."
Tucker is looking forward to better results in 2014.
"We want to be very stout and physical in the run game and then in the passing game be able to pressure with four guys," Tucker said. "Our pressure packages will fit our personnel and be dynamic enough where we can play to guys' strengths and be unpredictable."