Bears owner Virginia McCaskey is not happy with the current state of the franchise that her father, legendary NFL pioneer George Halas, founded as the Decatur Staleys in 1920.
Chairman George H. McCaskey made that clear Monday when he was asked about his mother's role in and reaction to the firing of general manager Phil Emery and coach Marc Trestman.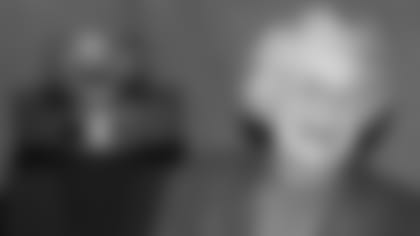 Virginia McCaskey poses with the George Halas Trophy, named for her father, after the Bears won the NFC Championship in 2006.
After a long pause, an emotional McCaskey said: "She's been very supportive. She agrees with the decisions that we made. She's pissed off. I can't think of a 91-year-old woman that that description would apply to. But in this case, I can't think of a more accurate description.
"She's been on this Earth for eight of the Bears' nine championships and she wants more. She feels that it's been too long since the last one, and that dissatisfaction is shared by her children, her grandchildren and her great-grandchildren."
The Bears have won just one NFL championship over the last 50 seasons (in 1985) and have failed to make the playoffs seven of the last eight years since advancing to Super Bowl XLI in 2006.
"She's fed up with mediocrity," McCaskey said. "She feels that she and Bears fans everywhere deserve better."
Gap grows: One main reason that general manager Jerry Angelo was fired after the 2011 season was an expanding talent gap between the Bears and NFC North rivals Green Bay and Detroit.
After getting swept by both the Packers and Lions this season for the first time since 1997, Bears president and CEO Ted Phillips was asked to quantify the gap.
"It's not where we want it to be or we wouldn't be here today," Phillips said during a press conference held to discuss the dismissals of Emery and Trestman. "We're expecting that gap, however large it is, to close and close rapidly."
The Bears went 1-5 against NFC North opponents in 2014, matching their fewest division wins in a season since 1998 when they went 4-12 in Dave Wannstedt's final year as coach.
"We have to do better in our division," McCaskey said. "You have to be successful in your division if you want to win the Super Bowl. To make the playoffs, you have to control your division, so that'll be a priority going forward."
Staff issues: The only Bears assistant coach who was fired along with Emery and Trestman Monday was offensive coordinator Aaron Kromer. The others remain under contract, with the exception of quarterbacks coach Matt Cavanaugh, who was in the final year of his deal.
"We have indicated to all those folks that in the event that the new head coach or general manager wants to interview them, we'd like to give them that opportunity," Phillips said.
"However, we're not going to stand in their way; if they have another opportunity elsewhere, then they will go through the proper protocol and those organizations that want to hire or interview one of our coaches or scouts, they will go through the proper protocol and notify me."
Money no factor: Emery and Trestman both reportedly have two years left on their contracts, which means the Bears will have to continue to pay them. But that didn't stop the team from making the moves that McCaskey and Phillips felt were necessary.
"The balance swung overwhelmingly in favor of doing the right thing," McCaskey said. "The money wasn't a factor. We decided to do what was in the best interest of the Chicago Bears regardless of the money situation."