A frustrated Brandon Marshall placed the blame for Sunday's 21-13 loss to the Green Bay Packers squarely on the shoulders of a Bears offense that has struggled much of the season.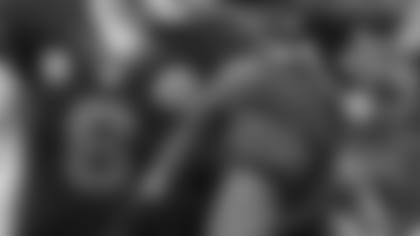 The Bears finished with 190 yards of total offense, their third-lowest of the season.
"Everyone on offense should be held accountable, even if that means jobs," Marshall said during a brief post-game press conference. "It's been this way all year. There's no excuse. We still have two games left. There's still hope, but at the same time we need to be held accountable."
The Bears offense mustered only 190 yards and one touchdown, went 0-of-9 on third down and failed to get into the end zone on three straight plays from the one-yard line in the third quarter.
"It's the same thing every single game," Marshall said. "What I have to do is try my best to keep it together and not let this affect me because it's starting to affect me more than it should. I love this game. I'm very passionate about this game and right now it's affecting me way too much."
Marshall led the Bears with six receptions for 56 yards and scored his team's only touchdown on a 15-yard pass from Jay Cutler. The only other Bears players who caught passes Sunday were running backs Matt Forte (5 for 64 yards) and Armando Allen (1-15).
After completing 12 of 21 passes for 135 yards with one touchdown, one interception and a 72.5 passer rating, Cutler blamed himself for the anemic aerial attack.
"It falls on me," Cutler said. "I'll take full responsibility for this offense and for this passing game. I didn't get the job done and we lost the ballgame."
Flag parade: Rookie receiver Alshon Jeffery drew three offensive pass interference penalties, nullifying an apparent one-yard touchdown catch and receptions of 36 and 7 yards.
"All of them were really big plays," said coach Lovie Smith. "Normally you get a call that goes your way, but we had a lot of opportunities and that's how the officials saw it."
"I don't think any of us want to get into a penalty discussion over what was right, what was called and what should have been called," Cutler said. "I don't think anyone wants to get fined, first of all. Secondly, that's not what lost us this game."
No finger pointing: On Cutler's lone interception late in the first half, receiver Devin Hester clearly was not where the Bears quarterback expected him to be. But Cutler accepted the blame.
"It came out of my hands; I'm responsible," Cutler said. "Those things can't happen. That's how you lose ballgames against good teams like that."
Missed opportunity: A key moment in Sunday's loss came late in the third quarter when Forte was stopped for no gain on back-to-back plays from the Packers' one-yard line.
"On the goal line, the offensive line has got to get movement," Forte said. "I look for a hole and try to hit it. There are going to be unblocked players. My deal is I have to slam it up in there. That's what I was doing. You have to give them credit too. They played tough defense on the goal line."
"That's all squarely on the offensive line," said center Roberto Garza. "We have to get them moved and we have to get the ball in the end zone. We have to get that done. There's no excuse for that."
After Forte was stopped twice, the Bears eventually settled for Olindo Mare's 34-yard field goal, cutting the deficit to 21-10 with :12 left in the third quarter.
"It hurts," Smith said. "It was a one-score game at the end. We had excellent field position. You've got to capitalize, and that's the case most of the time. You can't rely on field goals in those situations. We need to get touchdowns."
"In the type of game of this caliber, you've got to make the series count," Cutler said. "Three points isn't going to get the job done."