BOURBONNAIS, Ill. – The Bears and Olivet Nazarene University announced Monday that they have agreed to extend their relationship and keep the team's training camp at the Bourbonnais campus through 2022.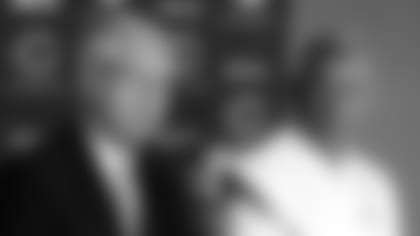 Bears general manager Phil Emery joined ONU president Dr. John C. Bowling at a press conference Monday to announce the new nine-year agreement.
The Bears have conducted training camp at ONU since 2002, benefitting from the excellent facilities that help the team prepare for the season as well as the close proximity to their fan base, with the campus located approximately 55 miles from Chicago.
Bears general manager Phil Emery joined ONU president Dr. John C. Bowling at a press conference Monday to announce the new nine-year agreement.
"It's been a great experience to see the university grow and the Bears to grow in their ability to connect with their fans through camp in the last 12 years and we're very much looking forward to the further extension of that relationship and the growth of that relationship," Emery said.
This summer, the Bears have used the newly-built 176,000-square-foot Student Life Recreation Center on the ONU campus to house their weight room, indoor walk-throughs and personnel meetings. Future planned university upgrades include regrading and resodding the practice fields and doubling the size of the locker room.
"Both sides have extended themselves to do everything right in a first class way to give our fans a great experience and allow us to compete for a championship; to put us in position through their time and efforts to make it a great camp," Emery said. "The facilities here are second-to-none."
The RC Cola Chicago Bears training camp at ONU hosts approximately 100,000 fans annually over the course of the three-week camp period. Admission and parking are free and this year's camp has included a kids' interactive area, team pro shop, post-practice concerts, kids autograph sessions and a variety of theme days. On Sunday, the Bears had their largest training camp practice crowd in their 12-year stay at ONU, with approximately 20,000 fans in attendance.
"What a great touch-point for our fans," Emery said. "If there's anything I've learned as a general manager it's how important camp is for the fans to be able to reach out and actually kind of feel the players, see who they are, see how they react, have an interaction, and I certainly have had that benefit of getting to know our fans better and I know our players have.
"The facility, in terms of the field space, how it's set up, and all the different fan experiences we have, is a credit to ONU and the commitment that they have to make things better for their students and the Bears."
In recent years, several NFL teams such as the Buccaneers, Eagles, Falcons, Giants, Redskins and Saints have moved their training camps back to their regular practice facilities. The Bears are now one of only 12 clubs that hold camp away from home.
"This situation is optimal," Emery said. "We're able to get centrally located. I really believe we get more fan influx. We get our players away to where they can kind of come together with their own unique family or team and establish their identity, and again you can't underestimate the fan contact. This facility allows us to do that in a much bigger and better way than we could staying at home."