With so many new names on the roster, Bears players are just getting to know their new teammates. Here are some first impressions shared with the media during OTAs:
Veteran defensive lineman Akiem Hicks, a free-agent acquisition, channeled a Miley Cyrus song when discussing second-year nose tackle Eddie Goldman. "Kid's strong," Hicks said. "I was singing to him today. I said, 'Came in like a wrecking ball,' just because he's so strong and he's just going forward. He's a strong kid."
Hicks also likes what he sees from third-round draft pick Jonathan Bullard, a defensive lineman from Florida. "He's super explosive," Hicks said. "I think that's what they're drafting upstairs, they're drafting explosive guys. They brought in Eddie last year, brought in Bullard this year, [and first-round outside linebacker Leonard] Floyd. I think that's what they're going for."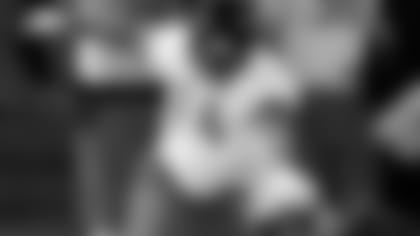 Third-round draft pick Jonathan Bullard during practice at Halas Hall.


Hicks feels that it's premature to compare Floyd to Broncos star outside linebacker DeMarcus Ware, a nine-time Pro Bowler who has recorded 134.5 sacks in 11 NFL seasons. But the Bears first-round pick does possess some similar characteristics.
"The other day somebody referenced him to DeMarcus Ware," Hicks said. "I said, 'Wait, wait, wait, calm down. That's too early.' [Floyd] definitely has that feel where he can get down really low, rip through, come around the corner and he definitely has the speed. He's going to build more strength the more he plays and the more he's here. I look forward to seeing what that kid can do."
Hicks is excited about practicing against Kyle Long, a three-time Pro Bowler who has moved back to right guard, the position he played in 2013-14 before switching to right tackle last year.
"Kyle has always been a really strong, athletic guy," Hicks said. "I guess that's what you want from every football player, but for Kyle it's different. You get a lot of guards that get stuck in the mud, but Kyle can anchor down and then come right out of it and kick back with the fastest of them.
"It's going to be a battle between us. It's going on right now and we don't even have pads on, so I can only imagine what we're going to do in training camp."
The brainiac: Veterans rarely ask rookies for advice, but there's nothing common about undrafted free agent tight end Ben Braunecker. The Harvard graduate worked in a biochemistry lab the past two summers and aspires to one day become a doctor who researches infectious diseases.
"It's the brainiac, infectious disease guy," said veteran tight end Zach Miller. "If we have any questions, I go straight to him. We're not shy. We've already told him, 'You're the guy that we're coming to if we have questions.' He's working while he's not working. He's playing football and he's working on his doctor stuff. That's kind of the perk of having the brainiac with us."
Asked what types of questions he'd have for Braunecker, Miller said: "Zika's out there. I've got kids. If I need things answered, if I want to travel outside the country, I'm going to go to him first."
In the trenches: Left tackle Charles Leno Jr. Jr. likes the size that 6-6, 316-pound free-agent acquisition Bobby Massie brings to right tackle.
"Bobby's a physical specimen," Leno said. "If you see him in the room, he demands it. He's a big guy. He's a physical guy. He's going to get after it, and him and Kyle work well together."
Second-round draft pick Cody Whitehair, a guard from Kansas State, has also made a positive first impression on Leno.
"He's athletic," Leno said. "He can bend. I like the way he moves. He's a rookie, growing. But for the most part I see a lot of potential in Cody."