Back on the practice field Monday following their bye weekend, the Bears began preparing for next Monday night's NFC North clash against the Detroit Lions at Soldier Field.
"We've been, like I'm sure they've been, waiting for this game for a long time," said coach Lovie Smith. "They're an excellent football team. We know the type of games we normally have between the two of us. But for us it's another chance to get a win."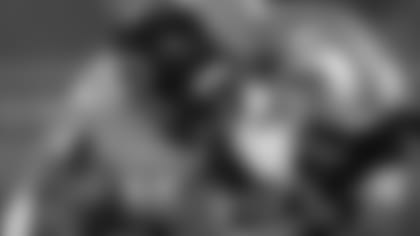 Julius Peppers sacks Lions quarterback Matthew Stafford during the Bears' 37-13 win last season.

The Bears (4-1) will enter Week 7 with a half-game lead atop the NFC North over the Vikings (4-2), who lost to the Redskins on Sunday. The Packers (3-3) and Lions (2-3) both recorded impressive road wins over the Texans and Eagles, respectively.

"We really enjoyed the bye week off," Smith said. "It's always good to get refreshed and heal up, which we were able to do. It was good to see a lot of football games.

"Our division took a step up. But as I told the team, none of that really matters for us. We like the position we're in. Any week you have to be ready to go to play your best football. That's what I saw from this weekend. Teams that played 60 minutes or more end up winning the football game."

The Bears will face the Lions for the first time since a 37-13 rout of Detroit last Nov. 13 at Soldier Field deteriorated into a chippy game.

Lions defensive tackle Ndamukong Suh ripped Jay Cutler's helmet off on a scramble and later shoved the quarterback to the ground well after he had released the ball-without getting flagged either time. Defensive tackle Nick Fairley did draw a 15-yard penalty for a late hit on Cutler.

In the fourth quarter, Lions quarterback Matthew Stafford ripped off nickel back D.J. Moore's helmet during Tim Jennings' interception return. Moore responded by charging at Stafford after the play and was ejected from the game for retaliating. The confrontation precipitated a wild melee between the teams near the Lions bench.

"There's always going to be bad blood," Jennings said Monday. "Just the fact that we're Chicago and they're Detroit, and they're in our division and we know we have to go through one another to get to that championship that we need to get to, there's always going to be bad blood with them, Minnesota and Green Bay. It's nothing different.

"They're going to come in here with the same attitude, the same mentality that they don't like us. They want to win, and it's going to be a dogfight until the end."

Despite the extracurricular activities in last year's game at Soldier Field, Smith doesn't think there's more hostility in the rivalry than in the past. But that doesn't mean it's not intense.

"Chicago isn't one of Detroit's favorites," Smith said. "They're not one of our favorites and it should be like that in the division. And when everybody is playing good ball, you know you have to be ready each play."