With top wide receivers Alshon Jeffery, Eddie Royal and Kevin White injured, their replacements have taken the Bears' "next man up" mentality to a new level.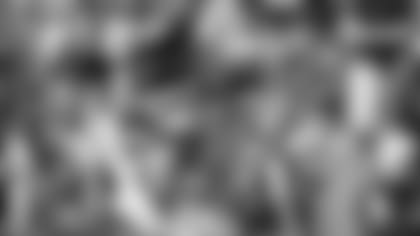 Cameron Meredith caught three passes for 48 yards on the Bears' two late touchdown drives.
In last Sunday's 18-17 win over the Chiefs, Marquess Wilson had six receptions for a career-high 85 yards and one touchdown, Josh Bellamy also caught six passes for 31 yards and rookie Cameron Meredith added four receptions for 52 yards.
"They're resilient," said offensive coordinator Adam Gase. "They're tough-minded and they've really come through for us in the clutch. These guys have made some really good plays that probably a lot of people wouldn't give them credit on making before they actually did it. They've done a great job.
"They've been in the right spots and Jay [Cutler] has done a good job having confidence in him and them and turning it loose and having faith that they're going to make plays."
Gase saw signs of the trio's playmaking ability on the practice field this summer in Bourbonnais.
"I'm not surprised [they've performed well] because they made so many plays in training camp," Gase said. "It's just that you're never really sure how guys are going to react once it's legitimate No. 1 corners you're going against. Are you executing the play right? Is the quarterback confident in going to you? I'd say [Cutler's] confidence level in them is pretty high."
That was evident last Sunday against the Chiefs when Cutler beat a blitz by lofting a 22-yard touchdown pass to Wilson, drawing the Bears to within 17-12 with 3:05 left in the game. Cutler threw the ball to a spot in the end zone before the young receiver even made his break.
Meredith's emergence has been even more remarkable. A quarterback at Illinois State until he was switched to receiver as a junior, the Chicago area native caught three passes for 48 yards on the Bears' two late touchdown drives, which turned a 17-6 deficit into an 18-17 win.
"I haven't been around a situation like that with a player before," Gase said. "He's done a good job as far as improving quickly. He had a really good spring and then training camp was a different animal for him; he struggled a bit. He has gotten better. Once we got to the games, it was like he really got comfortable, and he's gotten better ever since, week-to-week."
Cutler also has noticed how Meredith rises to the occasion in games.
"He's doing a good job," Cutler said. "I really enjoy him in the huddle and on the field. It seems like on game day there is a little bit something more about him. It's not too big for him. He goes out there and makes tough catches. We put him in there in the fourth quarter and he's out there making catches for us. He wants the ball to go his way. He's not afraid of it. It's good to see."