Bears rookie diary with Doug Kramer: Part 2
By Doug Kramer, as told to Gabby Hajduk
Bears sixth-round pick Doug Kramer, a center from Illinois who grew up in Hinsdale, shares his thoughts about training camp exclusively on ChicagoBears.com.
---
---
The first day of padded practice never fails to bring a new level of excitement. Even after experiencing it through five college training camps, the feeling of putting those pads back on turns everything up a notch. 
Tuesday felt good. It was fun being able to finish on plays and bring some more physicality to practice. Those first few practices in pads prove how hard you're willing to play and how long you're willing to go. When the pads came on, you have no choice but to play physical. The defensive line is going to give you all its energy, so you can't take a play off. You need to strain to finish every single play.  
Also, the caliber of players is so different from college. We're at the highest level of football, so everyone is just as talented you. So even with the pads on, the mental side of the game still has to be there and match the level of physical toughness. You have to be that much more locked in and focused to get through those tough practices. 
It's no surprise the last few practices this week have been the hardest yet. Coach Eberflus set a certain standard for the intensity of practices, and he's followed through. But competing at a game-like speed in practice is crucial in order to be prepared for the upcoming preseason game and the regular season. Eberflus said we're going to be the hardest working team on the planet, and you could feel that playing out during Friday and Saturday's practices. 
Those are the days I spent an extra few minutes in the cold tub. Then, you must be extremely mindful of hydrating and fueling your body after practice and making sure you get eight hours of sleep. 
There's been a lot of competition within the offensive line this week. You feel like you're competing against the other guys every day. That's a good culture to set in the room, though. Every guy has a chance to prove themselves during each practice.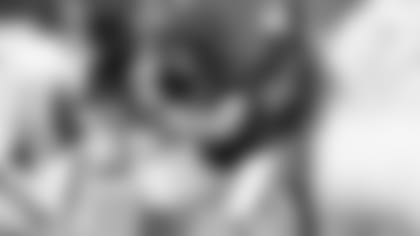 I kind of expected this type of competition and rotation of players. Everyone is good enough to compete for a job, so plugging in different guys between snaps isn't a surprise. I like that we are all getting experience playing next to different guys. As important as it is for an o-line to take snaps as a unit, it's also crucial for guys to be ready at any moment during the season. 
Even though the competition in the group is elevated, this is one of the most fun rooms I've been a part of throughout my entire football career. I go in those meeting rooms knowing we're going to work hard and be pushed, but I also know we're going to have the best time doing it. 
When we have meetings, we're all usually there about an hour before it starts. We have a basketball hoop and a dartboard in the room, so we'll have fun playing games. Or we'll throw on a movie or game film and just talk through it before our coaches get there. Having those moments makes it really easy to get to know these guys outside of football.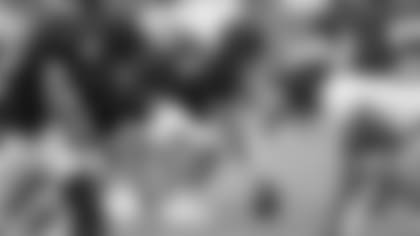 I think that's just a testament to the veteran group in our room. As a rookie, all I could ask for is having a group of veterans who are open and willing to share information and get to know you. Lucas Patrick and Cody Whitehair really established that culture, then Riley Reiff and Michael Schofield added their experience to it once they arrived. 
Having guys like Patrick and Whitehair has made it easier to pick up the playbook and learn new techniques or schemes. I've also learned so much from our coaches, Chris Morgan and Austin King, who are both great teachers. 
I do think everyone is itching to get to the first preseason game. We're less than a week away from playing the Chiefs and when you get this close to a game, you need to start mentally preparing for it. It takes even more preparation now, after all the added information we've been learning every day. You really have to study the playbook and put your mind in game-like situations, so when they come, you're prepared. 
I've been thinking a lot about the X's and O's of Saturday. But I haven't really thought about representing the team I grew up loving. I do know when the time comes to put on my jersey for the first time, I'll soak that feeling in and hold onto that moment.