An active college student, Paige Shiver would go on 30-minute runs, take cycling classes and lift weights virtually every day without getting tired.
But that began to change in January 2015—midway through her junior year at Purdue. Paige, the daughter of long-time Bears scout Jeff Shiver, would get exhausted while exercising and felt pain throughout her body. By the time she arrived in Baton Rouge, La., for a marketing internship last summer, she knew something was wrong.
"I would go for a run and couldn't run for more than five minutes because my lungs started getting affected," said the 22-year-old from West Lafayette, Ind. "It was really hard to catch my breath and my legs felt really heavy, like I could barely lift them up."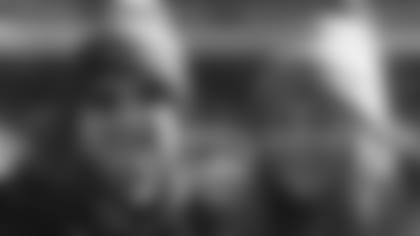 Long-time Bears scout Jeff Shiver poses for a photo on the sideline with his daughter, Paige.


After meeting with a gastroenterologist, rheumatologist and neurologist, Paige was diagnosed with Pompe Disease, a rare, progressive disorder that disables the heart and skeletal muscles and affects only about 1 in 40,000 people. As Paige knows all too well, the primary symptoms of Pompe Disease are muscle weakness and respiratory weakness.
"I get a lot of pain throughout my body," she wrote in a letter about her illness. "When I am in pain, I am really in pain and there is nothing that can be done but hope and pray that it will go away. This disease has been such an impact on my life and sometimes I feel as if it has taken over my life because every day is a battle."
Pompe Disease is caused by mutations in a gene that makes an enzyme that breaks down glycogen, a stored form of sugar used for energy. As a result, the bodies of those who suffer from it cannot break down carbohydrates.
Paige must receive treatments every other week for the rest of her life. She's been getting those infusions of a relatively new drug called Lymizime at the Simon Cancer Center in Indianapolis. She initially experienced side effects, but a new concoction that also include steroids, Tylenol and Benadryl seems to be working better.
Because of Pompe Disease, Paige can only exercise moderately, which means no more running. Any strenuous activity could damage her muscles, including her heart, so anything that leaves her feeling sore—like an intense tennis game for instance—must be avoided.
Unfortunately, Paige hasn't been the only member of her family afflicted by a muscle illness. Her six-month-old cousin, Emerson Kampen IV, passed away Feb. 1 in Indianapolis due to Leigh's Disease, a progressive disorder that affects the central nervous system. The baby's father—Paige's uncle, Emerson Kampen III—is an analyst and former player with the Butler University men's basketball team.
Despite the pain that Paige routinely endures, she plans to participate in the Muscular Dystrophy Association's Muscle Walk of Indianapolis May 22 to raise awareness and money to fight both Pompe Disease and Leigh's Disease.
"There's not a lot of research and no cure for my disease or my cousin's disease," Paige said. "My cousin's disease especially affects a lot of children and those with that disease usually don't live very long. So it's something I really want to make people aware of and hopefully research starts to be done and we find a cure for both diseases."
Paige will graduate from Purdue Saturday and plans to move to Baton Rouge, where she will begin a job as a marketing assistant with Blu Spero, a clothing boutique where she interned last year.
Paige's dad, Jeff, is entering his 30th season with the Bears and his fifth as executive scout/assistant director of college scouting.
CLICK HERE for more information about the MDA Muscle Walk of Indianapolis or to make a donation on Paige's behalf.