With Father's Day on Sunday, we asked a handful of Bears players to describe how instrumental their dads have been in their lives.
Guard Kyle Long (father is Hall of Famer Howie Long)
"Outside of my mom, my dad has been above and beyond the most influential person in my life. He's someone who has shown me and guided me through his behaviors and his actions. I have a tremendous amount of respect for the way he treats people and the way he goes about his business and his work ethic. The lessons he's passed down to me and my brothers are priceless and him being there for us all the time is all a kid can ask for in a dad.
"He threw batting practice when I was in little league and he was really good at that, but he stayed out of [coaching]. He felt uncomfortable being involved in that regard because he really didn't know what he was talking about in baseball. But he was really good in batting practice—a lot of guys hit home runs off of him—and it was always cool to have him around. He was just my dad, never the football player. And then when I got into high school and decided to play football, he was very hands on with that.
"I don't remember one time when he said I had to play football. In fact, he got me a guitar when I was in seventh grade and told me to learn how to play it. He wanted all of his boys to be their own people and have free will. One thing that my parents always told us is do something you're passionate about and work really hard at it and take pride in it. It just ended up being football."
Receiver Kevin White (father is Kevin White Sr.)
"Without my father being in my life, I definitely wouldn't be [in the NFL]. He's the one who put a football in my hand and has been practicing with me since I was a kid. He's also been my mentor, talking me out of bad decisions and talking me into good decisions.
"He always told me if you're a good person, you always smile and you treat everyone the same way—from the janitor to the G.M.—you'll be OK in this world. I always try to smile and be a good guy because that's what people remember. If you're good on the field and you're a good guy off the field, you have the full package.
My dad is a great guy, but I'm close with all my family members—my mom, dad, brothers and sisters. We have a family group text message every day to say good morning, good night, what everyone is doing that day, or maybe share a funny quote or a quote for motivation. I talk to my dad, mom, brothers and sisters every single day."
Tight end Zach Miller (father is Buzz Miller)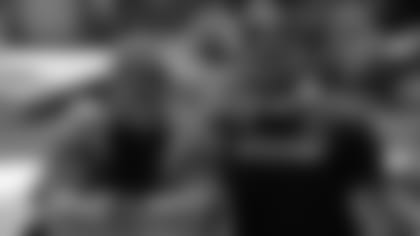 Tight end Zach Miller with his father, Buzz Miller.


"Everything with my career started with his work ethic, the way he raised me, the way he taught me to follow in his footsteps in every aspect of what he does and the way he treats people. He's probably one of the hardest working guys I know. I've never seen him miss a day of work and never seen him make an excuse. That's something I grew up watching every day. He's a good hard-working dude. He drives a semi-truck still to this day.
"My dad has always been my biggest fan. He never missed a game when I was growing up. He never missed a game when I was in high school and college. My parents try to get to every single game that they can now. They're both the biggest supporters you can have and it's awesome to have a family like that.
"Even when I was very young, my father always told me that I could do whatever I wanted, and he made me believe that. He told me I could be a professional athlete. I could play football. I could play basketball. I remember playing in the yard with him when I was five or six and him saying that I could play, and that just carried on throughout my entire life."
Running back Jeremy Langford (father is Jeffery Langford)
"My father has been very instrumental in my career. Early in my college years when I wasn't playing that much and everything wasn't going like I wanted it to, he really kept my head on straight and made me realize that a lot of people wanted to be in my position. That really got me here today, just learning that perseverance and faith in my skills that he instilled in me.
"He coached me in every sport that I ever played—football, basketball, track—and he's still doing the same thing now. I wanted to be good in everything I did and he pushed me to be that way. The best advice he ever gave me was when I had my senior speech and I talked to him before I spoke to my teammates. He told me to remember that "to whom much is given, much is expected." That really helped me at the time because I was a senior and I wanted to step up and be a leader, and it's something that has stuck with me.
"I still talk to my dad pretty much after every game. I'm my own worst critic, but he always gives me something to be positive about as well as something to work on."