His strong arm and talent was a given. But what convinced the Bears that Jay Cutler was their long-term answer at quarterback were the intangibles he displayed throughout the 2013 season.
Coach Marc Trestman began evaluating Cutler the first day they began working together in April and ultimately saw all of the qualities he had hoped to see in a franchise quarterback.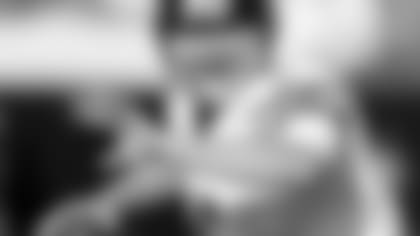 Jay Cutler's 89.2 passer rating this season was the best of his eight-year career.
"My biggest focus was not on his skill set," Trestman said earlier this month. "My focus was on all the other things, the things that weren't related to football but have everything to do with football; the type of person he was, his intelligence level, what was his commitment to the organization.
"We all knew the skill set. I watched all this tape and there was no doubt in my mind that he had all the ability to be a very, very good player in the National Football League. But what I saw over the last six months was selflessness, I certainly saw mental toughness.
"When you evaluate a quarterback, you say, 'Does he have an inventory of passes? Can he make all the throws? Does he have mobility? Is he a quick decision-maker?' Jay has all that. He can do all those things. But what's most important is, is he mentally tough enough? Can he fly the plane and not be on autopilot? And I think during this process he's proven that he can do that."
Working with his fourth offensive coordinator in five seasons since joining the Bears via a trade in 2009, Cutler posted a career-high 89.2 passer rating in 2013, completing 63.1 percent of his passes for 2,621 yards with 19 touchdowns and 12 interceptions in 11 games.
Beyond the numbers, what may have impressed the Bears most was how Cutler responded to adversity, especially in a crucial Week 15 win over the Browns in Cleveland. Back as starting quarterback after missing the previous four games with a high ankle sprain, Cutler rebounded from two early interceptions to throw three TD passes.
With a national debate swirling outside Halas Hall about whether he should be replacing red-hot backup Josh McCown, Cutler admitted after the game that he had felt pressure. The contest came six days after McCown had passed for four touchdowns and ran for a fifth in a 45-28 win over the Cowboys, earning NFC offensive player of the week honors.
"I was really fascinated by [Cutler's] press conference [after] the Cleveland game," said general manager Phil Emery. "I think he finally felt the weight off his shoulders that he showed everybody that he is ultimately a great competitor that can win even when the chips are down and even when he's a part of those chips being down in terms of the early picks that happened.
"He took accountability for it and he kept fighting for his teammates and found a way to win. From a physical standpoint, a toughness standpoint, emotional calmness, his ability to win a tight game and to bounce back from adversity, to me that game summed it up."
The Bears made a long-term commitment to Cutler less than a week after their season ended, signing him to a seven-year extension through the 2020 season.
"He's an extremely smart guy," Trestman said. "He is very, very selfless, more than people give him credit for. But the people in this organization know he does things inside this building quietly to bring a team together, and I've watched him do that without asking for anything in return.
"It all goes to toughness. Playing this position, it's not about skill set. You have to have the mental and physical toughness to be able to be at your best when everything is caving in around you, and I think Jay has clearly shown that he can do that on multiple levels."