During his pre-draft press conference Thursday at Halas Hall, general manager Phil Emery told reporters that the Bears are targeting six prospects with the 14th overall selection.
"Every day we keep narrowing it in terms of defining who that group is," Emery said. "I would say for that first pick, we're right at six. I'd be happy if two out of the six were on the board at our pick and I'd be ecstatic if three out of the six were on the board at our pick."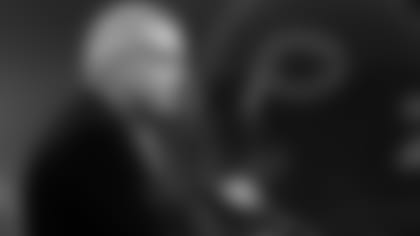 Phil Emery is preparing for his third draft as Bears general manager since replacing Jerry Angelo.
Having signed Jay Cutler to a seven-year contract extension in January, Emery acknowledged that the Bears likely will consider every position except one at No. 14.
"I would find it surprising if the Chicago Bears were to draft a quarterback in the first round," Emery said. "But hey, like my friend [Browns general manager] Ray Farmer said, 'I love Johnny Manziel. He's a hell of a player.' So it's always possible, but I would say it's improbable. In the first round, I would say only quarterback. That would be the only surprise pick to me."
Emery anticipates that two quarterbacks will be chosen before the Bears go on the clock-presumably Manziel and Blake Bortles. But the general manager would love to see three or perhaps even four get selected, enabling more top prospects at other positions to remain on the board.
While Emery wasn't going to divulge any names Thursday—exactly a week before the draft—he did discuss the importance of selecting prospects who can help the Bears win as rookies.
"Specifically in terms of the draft, you're always looking for players who can contribute immediately, especially at the top end of the draft," Emery said, "that can [fill] not only a need but that can help provide some help, whether it's a rotational player or a rotational starter.
"If it's a sub-starter immediately as a rookie, that's good. If he's a starter as a rookie and you have a hole and he can fill that and his grade warrants that pick, that's good, too."
While seeking immediate contributors like 2013 first-round pick Kyle Long—who started all 16 games at right guard and was voted to the Pro Bowl—Emery also drafts with the future in mind.
"In terms of a window, I'm always thinking now," Emery said. "But obviously when you look at needs, you have to look at needs not only [in terms of] our perceived current needs, but needs in the future in relationship to the contracts that you have.
"You're constantly looking at the big picture. You can't just look at today or this season. You have to look into the future. In the draft you want to fill what your perceived needs are but you also want to fill what could be needs down the road."
Emery revealed Thursday that the Bears have received calls from teams inquiring about trading up into the 14th slot. As part of the process, his staff is currently "working very hard at figuring out the scenarios on what works on how far down we would go."
If the Bears were to move down six spots, for instance, they would have to have six players they'd be comfortable with selecting, while understanding that five of those prospects could be gone before they picked.
"You may end up with that last one on the list, but that last one you'd better want or you shouldn't trade," Emery said. "So if you don't have that number of players you feel good about, you shouldn't trade."
There's also a chance the Bears could trade up—like they did in 2012 when they sent a fifth-round choice to the Rams to move up five spots in the second round to pick receiver Alshon Jeffery.
"Trade-ups are expensive," Emery said. "You just have to feel like that player you're trading up for makes a dynamic difference in your team."
The Bears have seven picks in the draft; one in each of the first five rounds (Nos. 14, 51, 82, 117 and 156) and two in the sixth round (Nos. 183 and 191). They acquired a sixth-round selection from the Buccaneers in exchange for guard Gabe Carimi and traded their seventh-round choice to the Cowboys for tight end Dante Rosario.