The Bears generally don't divulge information about their game plans, but it's no secret that they intend to achieve greater balance on offense Thursday night when they host the Cowboys.
In last week's 34-17 Thanksgiving loss to the Lions, the Bears called seven running plays and 51 passes, relying almost solely on a short-passing game against the NFL's No. 1 run defense.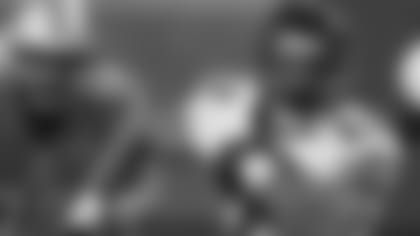 Bears running back Kyle Long rushed for six yards on five carries in last Thursday's loss to the Lions.
"We're just trying to get some balance in our offense," said coach Marc Trestman. "We've got to take the mistakes we made last week and turn them into a positive this week.
While Matt Forte and Ka'Deem Carey combined for only 14 yards on seven attempts, Trestman conceded that the Bears must commit to the run even if they aren't gaining big chunks of yardage.
"One of the things we know we have to do is we have to attempt to run the ball more," he said. "As I told the team, we don't have to run the ball for seven yards a carry.
"Running the football has a residual effect on a lot of different things. It helps your movement game; it helps your play-action game. It does all those things. It gives your guys a chance to come off [the ball]. We all know these things and so we'll try to do more of that."
The Bears want to be balanced regardless of who they're lining up against.
"It's something we certainly want to do each and every week," Trestman said. "We didn't get it done last week. We admit to that, and we have to move forward and we've got to get some more balance in our football. Part of that is to be able to run the ball, not just more effectively but to allow it to be in balance with the other things that we do.
"We've got tremendous targets outside. We've got three tremendous targets and we've got a very good running back and we've got to continue to work to try to balance all that out and we get an opportunity to do that this week against the Cowboys. It won't be easy, but it will be something we're looking forward to; the challenge of doing that."
Jay Cutler is in favor of handing the ball off more often. Against the Lions, he completed 31 of 48 passes for 280 yards with two touchdowns, two interceptions and a 76.7 passer rating. Cutler engineered a 55-yard touchdown drive by passing on all six plays on the Bears' opening possession, but the Lions took away a lot of those short throws over the final three quarters.
"You want to have some balance, even if numbers-wise it's not as balanced as you want it to be," Cutler said. "If you're running the ball efficiently and giving the illusion that you're going to run the ball it definitely helps.
"You want to throw the ball. You want to throw touchdowns. You want to throw big yards. But you definitely want to win football games and I think anyone who has been doing this for a while realizes that you've got to have the best of both worlds.
"You've got to move the pocket. You've got to be able to run the ball. You've got to do some play-action. You've got to mix it up. There's no one out there who can drop back 40-50 times consistently and win football games. It's really hard."
Because the run wasn't a threat against the Lions, Detroit's defensive linemen were able to commit completely to rushing the passer.
"You look at some of the play-actions against Detroit," Cutler said. "They're flying; they're getting underneath our stuff. They get paid, too. They're smart players."
The plan against the Lions was to open with short passes and then ease into the running game. But that never materialized, and the Bears finished with eight rushes—counting a kneel-down by Cutler at the end of the first half—the fewest in franchise history.
Forte had just five carries for six yards.
"You can't just sit back there and throw 50 passes a game and expect to win," Forte said. "Their front four was pinning their ears back. They didn't have anything to do but pass rush. They're not respecting the run and then if you play-fake they're not going to take the play-fake because you haven't been running the ball.
"It's a big part of the play-action game, to keep the defense off of keying on exactly what to do, whether it's pass rush or trying to stop the run."
In last year's game in Detroit, Forte rushed for 95 yards on 14 carries, including a 53-yard TD.
"We've run against them before," he said. "We ran against them last year and actually had a big play out there against them, had some good downfield blocking on that one play. Some of the other runs were really good against them too. This last game, we didn't run the ball at all. We didn't really get a chance to establish it."
That likely won't happen two weeks in a row.
"The only thing I could say is we didn't run it enough [against the Lions]," Trestman said. "We would have liked to run it more. It didn't happen that way, and we've got to move forward to Dallas. We need to run the ball more than we did."
"The opportunity that we have against Dallas is to proceed forward and do a better job of putting balance in our attack, which opens up a lot of different things for us and has a residual effect on the defensive line as you move forward in the game."