Preparing to host the Cowboys Monday night, the Bears have focused on improving their short-yardage offense throughout the week in practice.
When needing to gain one yard for a first down, touchdown or two-point conversion, the offense was successful on 18-of-26 chances in the first seven games but just 6-of-17 in the last five contests.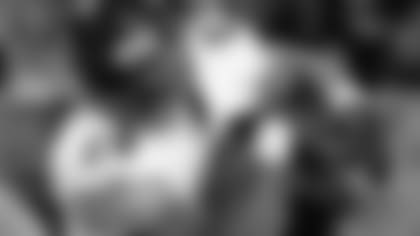 Michael Bush scored a touchdown on this 1-yard run in a Week 12 loss in St. Louis.
"It really has come down, with all due respect to our opponents, more about us than them," said coach Marc Trestman. "It's simply the execution of the play. It's everybody doing their job.
"We just haven't executed plays completely with all five, six, seven, eight guys, whoever is involved. There's no one guy. It's been a bit of taking turns. We've spent time on it and extra time this week in our walkthroughs and repeating plays and things like that to make sure everybody knows what to do."
In last Sunday's 23-20 overtime loss to the Vikings, Matt Forte was stopped for no gain on back-to-back plays on second-and-one and third-and-one late in the game with the Bears leading 20-17.
"All you can do is continue with your techniques," said offensive coordinator Aaron Kromer. "When it comes down to it it's just executing what you've done in practice in a game. Sometimes you feel like you have to do extra and that puts you out of position to do your job. I think that's what happened a couple times lately in our third-and-shorts.  
"We've studied all our short yardage. We've watched other teams' short yardage. When you have something that shows up like that where you don't make a first down, you do everything you can to figure out why and to help the guys understand why, and it was evident. But all you can do is work on it and get better at it, and that's where we're at. We've missed a couple lately and we've got to get better at that and just trusting our techniques and trusting what we do is the right thing to do even in third-and-short."
Even though Forte was stopped twice against the Vikings, he still has converted 12-of-17 times (70.6) when needing one yard for a TD or first down, which is much better than Michael Bush's 3-of-11 (27.3). The Bears have scored touchdowns on just 5-of-14 plays from the 1-yard line (35.7). Bush has carried on nine of those plays and scored only two TDs. The Bears are 0-of-6 on first-and-goal from the 1 with five Bush runs and one Jay Cutler interception.
"It's tough," said right guard Kyle Long. "As an offensive line, you're expected to make those blocks. Whatever the case may be, it hasn't gotten done. Obviously, within our room we know what the deal is, what needs to happen. We're one block away in a lot of cases from the first down and maybe even more. Sometimes a home run shot is one block away from happening. We've got to continue to focus on that."
The Bears racked up a season-high 480 yards against the Vikings, but failed on all three of their third-and-one opportunities and advanced inside Minnesota's 20 on only one possession.
"It's always frustrating when you're doing the things that we're doing offensively and you're moving the football but you're not getting the points," said quarterback Josh McCown.
"You look at those areas and you say, 'What can we do [better] that we've been doing?' What are the things that we need to pay attention to closer? Where are we missing? Why are we are missing?
"Sometimes it's just execution. We need to get better at what we're doing. Those things have been very frustrating to not get the points when you're moving the ball like we feel we can move the ball. That's something, like everything, we're always looking to improve."