The information gleaned by coaches in self-scouting sessions during the bye week is now being disseminated to players as the Bears prepare for Sunday night's game in Green Bay.
"We went through a lot of different things last week and evolved into a plan," said coach Marc Trestman. "The first part of the plan was to educate the guys on some of the things that we found, which are in-house things that we think we can do better with, and then continue to work through the week, utilizing some of those things that we picked up along the way."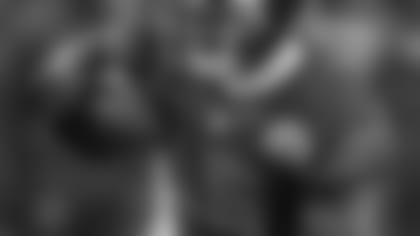 Brandon Marshall and the Bears will face the Packers Sunday night in Green Bay.
While Trestman declined to detail specifically what he and his coaching staff uncovered, the blueprint for the second half of the season reverts to his stated goals heading into the bye week: 1) Improve the turnover ratio; 2) Become more balanced on offense; and 3) Do a better job of taking advantage of match-ups.
The Bears returned to practice Monday after having six days off, eager to rebound from lopsided losses to the Dolphins and Patriots that followed an impressive win over the Falcons.
"I've spent time connecting with a lot of players on the team during the course of the week and asking them the things that we can do to help them," Trestman said. "I think there's really a proactive attempt by a lot of guys here. I think just the way they came back [Monday] is evidence that guys have spent some time thinking about this; how they're going to respond.
"The last two weeks have seemed like a much longer time. Atlanta seems like a long, long time ago right now. We know that because of the way we've played the last two weeks. But the evidence was clear [Monday] that there was energy in the building, there was energy in our room. Guys went out and worked. That's all we can ask them to do."
Trestman isn't expected to make any sweeping changes as the Bears begin the second half of their season Sunday night in Green Bay following a disappointing 3-5 start.
"At times like this it's really paying attention to the details," Trestman said. "That's not to say [players] don't otherwise. But this is an important time when they can. That doesn't mean just in the classroom, but on the field as well.
"It's all the little things that go into becoming big things on Sunday. You can't pull things out of a hat. You go back to fundamentals and techniques and making sure that the details are clear and concise for them so they can perform at the level that you're asking them to do that at."
Trestman doesn't blame Bears fans for being upset with the team's performance this season.
"We understand the disappointment that they have in our productivity over the first eight weeks," he said. "We have a sense of urgency that starts not just in our building but outside of our building because we know how important this team is to everybody in our community.
"This group of coaches and players are doing everything on a daily basis to put ourselves in that position where we can go out and win a football game. We've got to do the things on a daily basis to get it done. We can't wait for Sunday and decide we're going to play on Sunday.
"We've got to do it each and every day and that's what we're working to do in a disciplined and focused manner. That's how we're doing it, and we've got a bunch of passionate guys in the locker room who want to get it done."
While a CBS Sports online report Monday alleged that Bears players are tuning out Trestman and his job could be in jeopardy, the second-year coach doesn't feel his support eroding.
"The support in this building has been outstanding," Trestman said. "Everybody upstairs has been extremely supportive of the way we're handling things. Our team has been unbelievably compliant in doing everything that we as coaches and myself have asked them to do. It's evident on the field. It's evident in the locker room. It's evident in the meeting room that these guys are an amazing group of men."