Kurt Becker played for the Bears for eight seasons as an offensive lineman and won a Super Bowl, but he is facing a big challenge these days.
In 2012, he became the head varsity football coach and school district football coordinator for East Aurora High School. Before Becker arrived on the scene, the East Aurora football program had suffered through several tough seasons.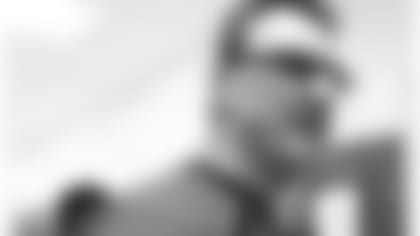 Former Bears lineman Kurt Becker is entering his third season as head coach at East Aurora.
Becker was ready to take on a new challenge and his transition after football has continued to be seamless. He was well-prepared for life after football by two great coaches in Bo Schembechler at the University of Michigan and Mike Ditka with the Bears.
"They instilled morals and values in me through the game of football that could be applied to life," Kurt said of Schembechler and Ditka.
He feels blessed to have had the opportunity to play the great game of football and would encourage current players to honor the game.
Becker would advise players now to "be humble and be an ambassador of the game so future generations may have the same opportunities you have."
There are several reasons Becker decided to return to his high school alma mater and coach football. The game changed his life and he wanted to give the young men at his former high school the same opportunity he had. He also wanted them to have structure, and learn teamwork and good sportsmanship.
Becker also knows about history and tradition, going to Michigan to play college football and playing with the Bears at the pro level. East Aurora was the first school district in the state and holds the honor of being one of the oldest high school football programs in Illinois. This coming season will be the 122nd for the Tomcat football team.
Becker's happiness does not come from a paycheck. To him, it's about the success of the players and the program.
"My rewards are witnessing our kids' lives being changed through the game of football," Becker said.
Becker finds it important to have a personal relationship with every player, so they know they are not just another number to him. It isn't always easy getting his players to open up, especially with the adversity they face and being surrounded by the constant societal and cultural problems of their community.
It was difficult for Becker to stand in front of his team and preach about how hard work will lead to success when they didn't win a game for one and a half seasons.
"I would tell the players never to quit on yourself, you will always come across adversity as you go through life and when that happens you just have to work harder and you will get through it," Becker said.
The success of the program at East Aurora High School weighs on Becker's shoulders, but he can't grow the program alone. He is trying to build a program from the bottom up. With the help of his colleagues, he started a youth football program in East Aurora through the Chicagoland Youth Football League. They are also working with the local park district to start a city-wide flag football program. He wants to show kids how football can change their lives for the better.
To continue the development of the football program, Becker has his eyes on a new multipurpose community stadium. The facility would be something the community could be proud of and would serve a wide array of activities.
The high school also works closely with armed services.
"We host the largest NJROTC program in the nation and we have an Illinois National Guard Armory attached to our school," Becker said. "So in my vision, our new facility would honor the armed services and be a memorial to honor all those men and women who came from East Aurora High School and served in the Armed Forces."
During Becker's first season at East Aurora, he had eight seniors on the team and one of them went on to play college football. Last season he had 15 seniors on the team and six are going on to play college football. He had another two seniors join the Illinois Army National Guard to go to college and serve their country. The progress is steady, but it isn't easy. Becker plans to continue to make a difference at his high school alma mater for many more years.