A piece of Earl Bennett's heart was taken away Dec. 23. But the Bears receiver is able to smile through the pain when remembering the larger-than-life personality of his older brother.
Prentice "Moo" Bennett passed away in Houston just before Christmas, less than a week after being diagnosed with the N1H1 flu, which has reportedly taken more than 30 lives in Texas this winter. He also suffered from diabetes, which commonly causes flu complications.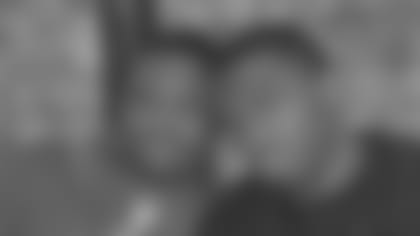 Prentice Bennett (left) poses with younger brother Earl Bennett.
Prentice was 35. He leaves a wife and four children.
"He was a loving guy," Earl Bennett told ChicagoBears.com. "Everybody who knew him knew him for his jokes. He would always call and tell you a joke each and every day. It would be some of the most off the wall stuff. I remember this one joke he told me. I can't say it, but it was pretty good."
After Prentice was hospitalized, Earl spent the week leading up to the Dec. 22 Bears-Eagles game in Houston at his brother's side. The veteran receiver rejoined the team in time to play in Philadelphia, but immediately returned to Texas to be with his family. Prentice passed away Dec. 23.
The funeral was held Dec. 30, causing Bennett to miss the season finale against the Packers.
"It's very devastating," Earl said. "This is a guy that I talked to every day. I would 'face-time' him and just call him each and every day to check on him and to see how he was doing. For me not to be able to call or see him anymore is heartbreaking. I think about him every day and I talk to him in my prayers."
The oldest and youngest of five Bennett siblings weren't exceptionally close while growing up in Birmingham, Ala., given their eight-year age difference. But that bond changed over time.
"Over the past 10 years our relationship had gotten really close," Earl said.
Prentice attended three Bears games last season, and Earl acknowledged that it just won't be the same without his big brother in the stands or just a phone call away. But that doesn't mean that Prentice won't be right there with Earl, at least in spirit.
"Of course he will inspire me," Earl said. "Every season will be dedicated to him. Every game will be dedicated to him. I'll figure out some celebration or some way to acknowledge him each and every game for sure."